I am using NOTION to create bits of sheet music for my new book ("The Art of Digital Music Production"), which is coming along nicely (over 400 pages, so far) . . .
THOUGHTS
The current plan is to publish it via BookBaby primarily as an eBook, so all the images and diagrams are small . . .
When I need to show something in music notation, I do the music notation work in NOTION and then do a screen capture on the Mac Pro (Early 2008) here in the sound isolation studio . . .
I use the Preview app to crop the screen capture and to sharpen the image, followed by saving it as a PNG file and then importing it to the Pages app, where I use the image handles to size it to fit . . .
I don't use the text-wraparound option, which makes layout work vastly easier . . .
It's basically the same way I compose posts on this forum, and I think it makes posts more interesting when they are multimedia rather than text-only . . .
This is one of the drawings from the book, and it's a visual diagram of the way I think "Blue Ain't Your Color" (Keith Urban) is produced and mixed . . .
[
NOTE: This is easiest to understand when you listen to the song played through studio quality headphones like SONY MDR-7506 headphones (a personal favorite) . . .
]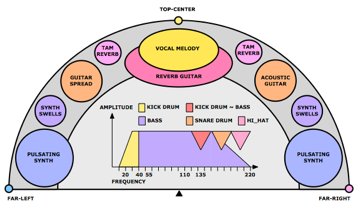 This is an example of music notation done in NOTION . . .

In addition to using NOTION to produce music notation in "sheet music" style, I also use it in YouTube videos . . .
[
NOTE: This is a YouTube video I did a few years ago to demonstrate having a bit of FUN with Mozart stuff, where the "puzzle" involves determinkng which measures Mozart wrote and which measures I wrote while being "Pretend Mozart", one of my virtual festival of personas . . .
]
Lots of FUN!