andrescamposaguilar wroteHi all.

What's needed to force Notion 6.5 to show this beaming pattern in a 4/4 score

I_I_I_I_I_I _I_I(8 eights grouped together)

instead of I_I_I_I I_I_I_I or I_I_I_I_I_I I_I ?

Greetings
The standard grouping in this scenario is two pairs of four eighth notes, but there is a way to do it . . .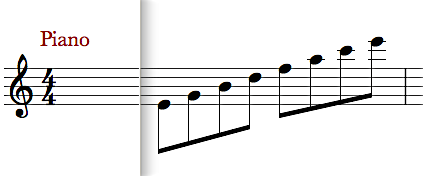 BEST: Standard Grouping
There are several reasons for doing it this way, and one of the reasons is that it's easier to determine the number of notes when they are grouped in smaller sets . . .
When there is a long series of notes all connected by a single bar, it's
not
so easy to determine visually how many notes there actually are in the set . . .
THOUGHTS
You need to make the eighth notes a custom tuplet with the ratio 8:8 . . .
It needs to be a custom tuplet, and you need to specify the ratio, because otherwise it will create a tuplet that plays the eighth notes over three beats rather than four beats, which in this instance is the ratio 8:6 . . .
This strategy works, but there will be a number over or under the custom tuplet, as shown in the image . . .

CONFUSING: Non-standard Custom Tuplet
You can specify whether the stems are up or down, and you can specify whether the number is above or below the notes . . .
You also can adjust the angle and relative height or depth of the connecting bar(s) . . .
Since this is a non-standard note grouping, it's probably best to specify the ratio for the custom tuplet, because formally trained musicians and singers will read "8" as being "play or sing the eighth notes over the time allocated to six eighth notes" . . .

BETTER: Non-standard Custom Tuplet ~ Ratio Specified
The tuplet ratio tells musicians and singers that the eighth notes are played or sung over the standard duration, which in 4/4 time will be four beats in this case . . .
Lots of FUN!