edwardbuckley wroteI purchased the Bundled Sounds for Notion 5 and have installed them. Some of the sounds seem to work, although they don't sound as I thought they should. I've been attempting to find out whats going on. When I start a new score, I go into the Score setup, and examine my Notion Instruments. Many of the Instruments are greyed out......??? How do I see exactly what I have installed and where??

With the caveat that at present I do

not

have NOTION 5, I think this works the same way as it did in NOTION 3 and NOTION 4, where in NOTION Preferences there is a single path to the location of the NOTION sounds . . .
NOTION comes with a set of sampled sounds for instruments, and traditionally these are called the "Bundled Sounds" . . .
NOTION also has a set of additional sampled sounds for instruments which in some instances add more articulations, dynamics, and playing styles (a.k.a., "techniques") to the standard instruments that are included in the Bundled Sounds but in other instances are different instruments, where an example of a different instrument is the Classical Guitar, which is available as an Expansion Instrument but is not included in the standard Bundled Sounds that come with NOTION . . .
However, there is a PreSonus "Notion Expansion Bundle Pack All", so this probably is the "Bundled Sounds" to which you refer . . .
Some of the terminology has changed, so folks who have been using NOTION for a several years will use "Bundled Sounds" or "Bundled Instruments" for the sampled sounds that come with NOTION, but will use "Expansion Sounds" or "Expansion Instruments" for the add-ons which are purchased separately and are
not
included in NOTION . . .
Based on the information provided at the PreSonus website, the new PreSonus "Notion Expansion Bundle Pack All" only works with NOTION 5, so the first thing to do is to be certain that you purchased this rather than the previous set of Expansion Sounds, although doing a bit of guessing, I think that if you purchased the previous set, they should update
automagically
when you register NOTION 5 and do a "Check for Sounds Update", which in NOTION 4 is a menu item on the NOTION menu . . .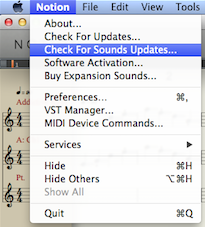 THOUGHTS AND TIPS
Someone who has NOTION 5 will need to provide information on the path for Windows, as well as the subfolder or directory hierarchy, but the sounds installer should handle all that stuff
automagically
. . .
One thing you can try is to set the path to the "Samples Folder" manually, since this will cause NOTION to examine the folder and its subfolders anew, where in the Windows universe "folders" usually are called "directories" . . .
This is done via the "Audio" tab of the NOTION "Preferences" dialog . . .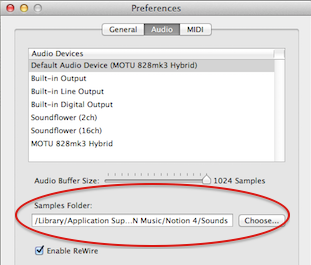 Regarding the audio quality of the various sound samples, I think that this is a different problem and that it is part of the other problem you have been working to resolve regarding drivers and so forth, which for reference on a Windows machine is
not
always such an easy problem to solve, since in great contrast to the Mac, there are many flavors and varieties of Windows computers, hardware, and software, because at present Microsoft only is able to control everything on its Surface machines, where in great contrast Apple controls everything on the Mac in this respect, at least insofar as the primary hardware and operating system are concerned . . .
[
NOTE: Microsoft tried to force computer makers to build high-quality machines for Windows Vista, but the computer vendors did not go along with the idea and Microsoft relented and made so many exceptions that it became a bit silly. The fact of the matter, for example, is that there is only one way to ensure that a computer provides the highest quality audio without any additions or enhancements; and it is to control the operating system and hardware, which is what Apple does and always has done, which in part is what establishes the legal authority required to do it; and even when the user decides to use an external digital audio and MIDI processor, there are rules, and this is part of Mac OS X Core Audio. Over time, I think that Microsoft will have the same legal authority, since it already does this with its Xbox and Surface products, but it will be a while before Microsoft is able to control (a) its operating system

and

(b) the primary hardware upon which it runs. In this respect, the vast importance of Microsoft Surface is that it is the official "heads-up" notice, and so far none of the various governmental regulators worldwide has said anything about it, which if nothing else makes Microsoft stock an intriguing long-term investment strategy, but with emphasis on "long-term", because it probably will be a while . . .
]
In the Apple universe, Mac OS X has Core Audio; and every Intel Mac has onboard audio hardware specifically designed and fine-tuned to work with Core Audio, so for the most part there is nothing to configure, because it works
automagically
, based on the general rule in the Apple universe that the computer never should bother the human, which is the way it works nearly all the time . . .
If you use an external digital audio and hardware interface like the PreSonus AudioBox 1818VSL or MOTU 828x, then there will be a driver for the Mac and one for Windows, where on the Mac the drivers work in cooperation with Mac OS X Core Audio; so, it's all good . . .
On the Mac, the only parameters you should need to set are the sample rate and resolution or bit-depth, where for example standard CD quality is 44,100-Hz at 16-bits. Depending on the particular MOTU unit, you might need to set the channels for the Main stereo output, which was the case with the MOTU 828mk3 Hybrid that I use here in the sound isolation studio until the latest driver update, since originally MOTU decided that Main Out 1-2 should map to channels 9-10 for the MOTU 828mk3 Hybrid (which was so confusing to me that I had to call MOTU Technical Support to get it working, but so what) . . .
[
NOTE:Explained another way, I think it is accurate to suggest that at present there are many more variables in the Windows universe in this respect; and while Apple now uses Intel processors, Apple has specific requirements for its Intel processors; and Apple and Intel collaborate on this; so while the Mac Pro here in the sound isolation studio might be using the onboard Intel audio hardware when I am not using the MOTU 828mk3 Hybrid, I think it is tailored to Apple specifications by Intel . . .
]
The Mac Pro here in the sound isolation studio is the "Early 2008" model, but I am running Mac OS X 10.9.4 (Mavericks), hence I can tell someone with a new Mac how to set the audio stuff for Mac OS X Core Audio; and so long as I can get a copy of the user guide for external digital audio and MIDI interfaces, I can do the same, because nearly all of it happens
automagically
. . .
On the other hand, I think it also is accurate to suggest that one can do everything on a Windows machine, but somebody needs to know a bunch of stuff that typically one does
not
need to know to do everything in the Apple universe; hence my perspective is that it depends on how much stuff you want to have no choice but to know when nearly none of it actually has much of anything to do with composing, performing, producing, mixing, and mastering music . . .
It's all fine with me, because among other things (a) I am computer geek; (b) I started doing Windows application programming in early-1987 with the first version of Windows, which as I recall was an update, hence was not Windows 1.0 but instead was Windows 1.0.3 or Windows 1.0.4; and (c) I did not switch to the Mac until 2001, but so what . . .
All things considered, I prefer to know what the sostenuto pedal of a US style grand piano does than to know a bunch of computer stuff that I probably knew at one time or another but forgot because it was boring . . .
If I cannot avoid messing with it, then I mess with it; but my experience in the Apple universe is that there are few times when I need to mess with computer infrastructure stuff . . .
edwardbuckley wroteI've also tried to load Sampletank 3, and use these instruments, although the ST3 screen will come up, I cannot load any actual instruments.


Again, the same caveat, since at present I do

not

have SampleTank 3 . . .
A few other Windows users are reporting the same problem with running SampleTank 3 with NOTION 5, but it appears to be working nicely on the Mac from what I have read . . .
Nevertheless, the first thing to determine is whether you can run SampleTank 3 in standalone mode--separately from NOTION--where for reference, when SampleTank 3 is running in standalone mode it is not "hosted", but when it is running in NOTION, it is "hosted" . . .
There will be an executable application for SampleTank 3, and this is what you need to run to be running SampleTank 3 in standalone mode . . .
Like NOTION, there is a path for the various sampled sound libraries that SampleTank uses, and you need to set this correctly . . .
If you can run SampleTank 3 in standalone mode and access its various instruments, then this is a good first step to solving the problem you are experiencing in NOTION 5 . . .
Based on what I have read, there are two primary ways to use SampleTank 3 in a NOTION 5 score, where one way is to use the predefined mapping and the other way is to load SampleTank 3 as a VSTi virtual instrument, which has only the basic mapping, although there probably is a way to do your own user-defined custom mapping via rules and so forth . . .
[
NOTE: There is another topic in this FORUM that explains more of the specific information for using SampleTank 3 with NOTION 5 . . .
]
SampleTank 3 instruments not loading (PreSonus Notion Forum)
However, there is a third way, which is to use a "virtual MIDI cable" and a NOTION External MIDI staff to cause NOTION to send the MIDI it generates based on the music notation to the standalone version of SampleTank 3; and yet another way is to use a Digital Audio Workstation (DAW) application like PreSonus Studio One 2.6+ Producer/Professional to host SampleTank 3, where in this strategy the DAW application will be a ReWire 2 host controller and NOTION 5 will be a ReWire 2 slave which sends its generated MIDI to the DAW application based on the music notation on one or more NOTION 5 External MIDI staves, noting that you can have a virtual festival of NOTION External MIDI staves, since each one can send its information via a different MIDI channel, since there are four MIDI ports, each of which has 16 channels for a total of 64 MIDI channels . . .
[
NOTE: In this particular context, a single "MIDI channel" handles stereo (left and right), which is a different usage from a "ReWire 2 channel", since ReWire 2 channels are singular, which maps to being monaural audio, so it requires a pair of ReWire 2 channels to send stereo audio (left, right) . . .
]
Another thing to consider is modes, where generally you need to run everything in the same mode (all 32-bit or all 64-bit). On the Mac, applications that run in both modes (32-bit and 64-bit) are contained in a single application package, so there is only one install; but in the Windows universe each mode is a separate install and executable . . .
On the Mac, when a VSTi virtual instrument is hosted by NOTION 4, the mode in which the hosted VSTi virtual instrument runs is determined by the mode in which NOTION 4 is running, all of which happens automagically and does not require setting the mode for the VSTi virtual instrument explicitly (which is in contrast to setting the mode for standalone virtual instruments, which must be set explicitly when they are dual-mode); so depending on how this is done in the Windows universe, it is a possibility, but all I can do is guess, since I do everything on the Mac and have no way to do Windows experiments. Windows runs on the Mac, but I have no desire to buy a copy of Windows . . .
YOUTUBE VIDEOS
[
NOTE: These are specific to NOTION 4, but so what . . .
]
In the following YouTube music video, there are two NOTION 4 External MIDI staves that are playing two of the synthesizers in the Reason 7 project; but the NOTION 4 External MIDI staves are hidden, hence are not shown. Nevertheless, you can see the activity in the two red background tracks in the Reason 7 project (labeled "Thor" and "ID8"); and of course you can hear it . . .
[
NOTE: The NOTION 4 generated audio already has been recorded as soundbites in this YouTube music video, so it shows NOTION 4 tracking or keeping pace with the DAW application in real-time on the fly, which is handy when one switches to producing, mixing, and mastering . . .
]
[
NOTE: The two NOTION 4 External MIDI staves are visible in this YouTube music video, which is yet another version of "Faster" (Techno Squirrels), one of the demo songs that came with Reason 6, which is a personal favorite song for SurfWhammy remixes for educational purposes. The eight vertical bars at the lower-left of the screen show the activity of each of the eight cores of the 2.8-GHz 8-core Mac Pro (Early 2008) with 20GB of system memory here in the sound isolation studio . . .
]
[
NOTE: This was done within NOTION 4 using standard Latin Percussion (Maracas. Guiro, and Cabasa) and VSTi virtual instruments (MachFive 3 Mark79, Star Drums, Vibrato Strat, Jazz Bass, and Bass Pad, Addictive Keys Grand Piano, Addictive Drums Vintage Drumkit, and FabFilter Twin 2 Synthesizer for the Electric Guitar). The echoes are done with Timeless 2 (FabFilter Software Instruments) . . .
]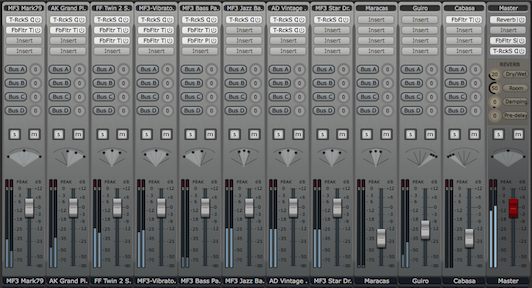 Lots of FUN!