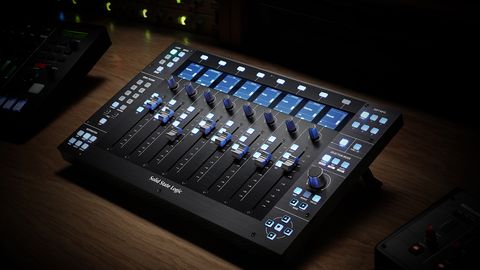 SSL UF8 Control Surface - Includes startup control with Studio One along with Pro Tools, Logic, Cubase, and Live. That makes for a viable Studio One option for particularly newcomers wanting a fresh look at a control surface.
So the SSL UF8 Control Surface makes for a nice option to Studio One users. Is it a replacement for a Faderport 8? Likely not as it's even more $$$ than a Faderport 16, coming in at $1200. Besides, Just try and pry my FP8 from my hands. Still, it's a fantastic option, and competitive price for those currently shopping for a control surface. Not to mention it has SSL build quality, and design which goes a long way in how one wishes to work, and we all know the word "flow" now don't we. One look at those dreamy FFT LED's speaks volumes on clarity, and mode that the surface is being used in (see video).
So just sharing in the wealth of information. Share, share thats fair.
Post your thoughts, and weigh in on what you like, or don't like, or advise to one considering such a piece of hardware (or "kit" for you Brits, as it were). There's no denying a control surface brings tactile benefits, and having the likes of an SSL at your disposal is now more viable than ever if you're new to the control surface scene.
Some potential discussions, or thoughts:
Is the SSL UF8 impact wise, late to the control surface scene, given the current crop of surfaces out there now?
Are there justifiable price benefits, or even any benefits of the FP8 over the Faderport 8/16, X-Touch, Eucon, S1, or SSL Nautilus2?
Will the UF8's adherence to HUI or MCU be a limitation even though SSL include their own 360 software?
Still, there's no denying, the SSL UF8 is a sweet ride!