Tmothy wroteThank for this detailed explanation of your techniques for bringing both programs together.

Glad to help!
Tmothy wroteI will investigate the links you provided for further info. Have you investigated the new communication protocol between SO and Notion? I tried it out on one track the other evening and was immediately impressed.

Yes, and it works very nicely . . .
Tmothy wrote I haven't had good experiences with rewire. Admittedly much of this was probably my fault. Some it was also likely due to the DAW I was using at the time. This is why the new protocol looked so good to me initially.

There are several ways to do ReWire; and prior to ReWire MIDI, working with MIDI sent from NOTION to Studio One required a virtual MIDI cable, which is included with Mac OS X but on Windows machines requires a third-party utility . . .
If you only are sending audio from NOTION to Studio One in a ReWire session, then no virtual MIDI cable is required . . .
The big step forward occurred when PreSonus added support for ReWire MIDI to Studio One and NOTION, and this is important because when you use ReWire MIDI you do
not
need a virtual MIDI cable, since the MIDI communication pipe is provided by the ReWire infrastructure . . .
I check on this a few months ago, and at the time PreSonus was the only company that fully supports ReWire MIDI, but in fairness I have not checked the new version of Reason (Propellerhead Software) . . .
The keys to using ReWire productively are (a) to configure it correctly, (b) to follow a few simple rules, and (c) to do it with sets of instruments, tracks, and staves that are not overwhelming in terms of system resources and processor cycles . . .
From my perspective, the biggest initial hurdle in doing ReWire is that other than in this forum, there is no full documentation anywhere on every possible combination of Digital Audio Workstation (DAW) and NOTION, which is one of the reasons I make an effort to help folks with ReWire when NOTION is running as a ReWire slave application to a DAW application running as the ReWire host controller . . .
Tmothy wroteI like the methods you use for layers and the ways in which you combine those to enhance your work flow. In this way you are able to build up huge mixes in a very organized fashion.

It's the only practical way one person can create a song with potentially hundreds, if not a few thousand, instruments--real, virtual, and with real and virtual singing . . .
It's a variation of the strategies created and used by Les Paul, Phil Spector, George Martin, Alan Parsons, Eddie Kramer, and a few others . . .
I call it the "Combine and Conquer Rule" variation of the "Divide and Conquer Rule" . . .
In theory, it's possible to have a Studio One ".song" with hundreds of tracks, each having a separate volume slider and so forth; but even if you had more monitors than in the Pentagon War Room, you cannot see all of them at the same time . . .
More to the point, there is a reason the data input window for writing posts in this forum is about the size of standard note card (3" by 5"), and the reason is that even at this size, you only can read a few words clearly at any time . . .
I have a few songs that have 100 or more tracks, but I do submixes to keep everything manageable . . .
When everything was done with analog magnetic tape, doing submixes and "ping-ponging" tracks from one tape machine to another--which is the way "Sgt. Pepper's Lonely Hearts Club Band" (Beatles) was recorded--requires a bit of extra planning, since there are generational electromagnetic audio quality losses when "ping-ponging", as well as a gradual increase in noise that must be handled . . .
This generational loss does
not
occur in the digital music production universe, although noise always needs to be handled, with noise gates being one way to control and to minimize certain types of noise, where the general strategy is that a noise gate is set to activate when its input drops below a certain value, at which point nothing gets through the noise gate, with an example being a snare drum when you only want to hear the snare drum when it is hit, not all the time. Another example is singing, where you only want to hear the singer when the singer actually is singing, since if you just leave the microphone on all the time, you hear everything in the recording studio regardless of whether the singer is singing . . .
When using a noise gate on a singer, you need to set it so that it does not interfere with hearing the singer breathing, since there is a way singers breathe when singing that is melodic and part of the singing . . .
[
NOTE: If you listen carefully with studio quality headphones, you can hear the melodic breathing Elvis does when singing this song . . .
]
Tmothy wroteMy brain works just a little differently than some when composing music. For one thing, I probably can't use a template because my ideas are constantly changing. This means my directive concerning instruments constantly changes. Also, in my case the vsti's are mostly smaller clusters and often complimentary. I know I won't need huge mixes. I'm not mixing cinematic. I do use Kontakt extensively though.

There are two ways to create what I call "templates", and one way is used when you have a specific set of instruments that you use frequently, which is what I do for part of my "basic rhythm section", since I have specific instruments I like to use as part of "song formula" . . .
The other way is more general type of "template" that is not so specific; and it might be a set of 10 instances of Kontakt (Native Instruments), where each instance is set to the same instrument, for example a concert grand piano . . .
In this type of "template", everything is configured, but all the instruments are the same initially . . .
To make it specific, instead of needing to configure everything, all you need to do is click on the Studio One Instrument Track for each Kontakt instance and then select the specific instrument in Kontakt that you want to use, which might be a Trumpet, Clarinet, Violin, or any other instrument Kontakt provides, including third-party instrument libraries for Kontakt . . .
Native Instruments has some fascinating "world instrument" collections, and there are other companies that provide instrument libraries designed to be used with the full version of Kontakt, like Bolder Sounds . . .
Bolder Sounds
Tmothy wroteI imagine a smaller chamber orchestra or an acoustic/orchestral synergy using little known world instruments occasionally. I don't think my demands are very steep here. My idea was to simply have a score for my music made in Studio One and sent to Notion. It seems I read that they could somehow share sets of instruments. This might not necessarily be important if all I need is a score.

You can do this, and Studio One and NOTION support it . . .
Tmothy wroteI would like to maybe post the score as a movie to my music at some point so the listener can follow the composition in notation. At the very least I had hoped I could post an accurate .pdf to my work.

This is done with Screenflow (Telestream) on the Mac Pro here in the sound isolation studio , and everything is done in NOTION . . .
You can do this with Studio One and NOTION in the "ReWire Strategy", and depending on what you want the viewer to see, you can set the screen to show Studio One and NOTION or just one of the applications in the ReWire session . . .
You also can export the audio mix from Studio One and import it to the corresponding NOTION score where you have the matching music notation or perhaps just some of the music notation for specific parts . . .
Tmothy wroteAs I said my brain is a little different. It concentrates for a little while on one thing and then needs to move to something less intense. I can't stay with high technical stuff for days on end. I will eventually get it though with that off and on kind of progress. Just seems to take me longer.

Wandering into too much technical computer stuff is not so much FUN all the time . . .
When I'm in a composing mood, I don't want to mess with computer stuff, for sure . . .
Tmothy wroteThe main thing I need as a creator is a simple creation process with as few steps as possible so I can concentrate on the music itself. The more I have to get involved in a huge template scheme my dreams of making any music move farther away.

Using "templates" is entirely optional, and for some of the instruments I use occasionally, it makes no sense to have a predefined "template" . . .
Tmothy wroteI don't believe I would work well strictly using Notion or any other notation program as the creation medium since the workflow is so much less capable than a DAW. I.E. notes made have to be individually erased if they need to be removed etc. With a DAW I can simply record a take and if it isn't right I re record it in less time. I have Notion for iPad too and I'm not sure if I'll ever use it.

I use a DAW application, NOTION, and Reason (Propellerhead Software), as well as a few real instruments and real singing but also virtual singing via Realivox Blue (Realitone) . . .
This is a high-level diagram (
see below
) of what I consider to be the complete digital music production system, which to the best of my knowledge includes everything that one can do . . .
Both parts (Virtual and Real) can be elaborate and vastly complex, but they also can be very simple . . .
Here in the sound isolation studio, the Real parts mostly are one microphone, electric guitar with pedal rig, and a KORG Triton Music Workstation, where the latter two are run directly to the MOTU 828mk3 Hybrid external digital audio and MIDI interface, which in turn connects to the DAW application for recording and playback . . .
It could be more elaborate, but the sound isolation studio is 6 feet wide by 7 feet tall and 12 feet long, so there's not a lot of space, which is fine with me . . .
For a while, I had the
Really Bigger Drumkit
in the sound isolation studio, but when I realized the indisputably vast importance of a calibrated full-range studio monitor system, I moved the drums to an adjacent room and then used the extra space for the calibrated full-range studio monitor system, which actually is a carefully configured sound system for a small nightclub that I adapted for this purpose and run at very low volume, checked and verified with a digital sound pressure level meter--something I can do
safely
due to having experience doing sound reinforcement . . .
At full volume, it would be louder than a classic 1960's Marshall Full Stack, which in what essentially is a room about the size of a small walk-in closet would be dangerous and certainly would result in permanent hearing loss, hence the great importance of knowing how to do this safely . . .
For reference, the loudspeaker units are a pair of Kustom PA15PS powered 15" loudspeakers with HF horns and a pair of Kustom PA112S powered 12" subwoofers . . .
You need an external equalizer to calibrate them, and I use a Behringer ULTRACURVE PRO
DEQ2496 Ultra-High Precision 24-Bit/96 kHz Equalizer, Analyzer, Feedback Destroyer and Mastering Processor and its companion calibration microphone . . .
I use a Nady DSM-1 Digital SPL Meter to set and verify the maximum listening level, which needs to be 85 dB SPL measured with a dBA weighting and 90 dB SPL measured with a dBC weighting . . .
And I wear OSHA-approved hearing protection when configuring the sound system, which is a key aspect of using this type of loudspeaker system
safely
in a small room . . .
For folks who might not have experience doing sound reinforcement, i recommend a pair of PreSonus Scepter S8 studio monitors augmented with a pair of Temblor T10 subwoofers, observing that it needs to be a pair of subwoofers to avoid arbitrary monaural mixing of the deep bass, which is the case even in a small room like the sound isolation studio, because when you are producing and mixing, you want to control everything ruthlessly, which is the
only
way you can trust what you hear . . .
Regardless of the loudspeakers you decide to use, you need an equalizer to calibrate them to the specific listening room or recording studio, and you need a digital SPL meter to set levels . . .
If you have an iPhone, there are apps that make it a digital SPL meter and are reasonably accurate . . .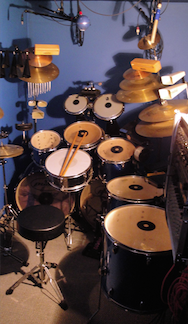 The Really Bigger Drumkit
[
NOTE: I need to update this to show "REASON 10", since it's the current version . . .
]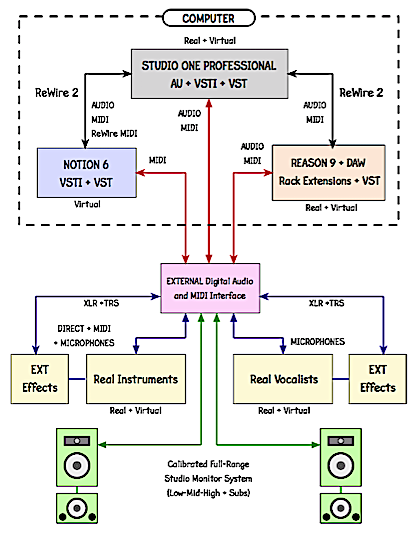 Tmothy wroteI relate my creation process to the old days when those who composed had a tune and they played it. THEN they wrote it down. That's basically what I want to do with SO4 and Notion.
If you have recorded MIDI in Studio One or NOTION, then you can do this . . .
Lots of FUN!