Ever had issue's with adding new midi equipment to your setup and your old devices not working properly ? Well if you are a Windows user, this could very well solve your problems and help in getting things working again. The issue with Windows is that it remembers stuff, which in some ways is good, but in other ways isn't.. particularly when it come to MIDI. The issue dates back to the days of XP incidently where limits were imposed in regard to the number of midi ports that were allocated. The problem is that if you exceed 10 entries, Windows won't reset the entry list or recognise any more entries and thus using MIDI devices won't err work.
I'm not aware if this issue has been addressed in subsequent Windows versions beyond Windows 7, but if it hasn't and you run into the issue, it's worth tracking this down vie this route to sort it.
**The following information involves editing the registry so unless you're competent with the technical aspects of computers (and authorised to do so).....
Back up your registry first by clicking File | Export and setting the "Export Range" to "All"..( Note: You will need to be logged in as an Admin type user also to carry out these changes )
______________
1. Open the run prompt by clicking START | RUN and type the following into the prompt: regedit then Click [OK], this will open the Registry Editor.
2. Navigate to the following registry key: HKEY_LOCAL_MACHINE\SOFTWARE\Microsoft\Windows NT\CurrentVersion\Drivers32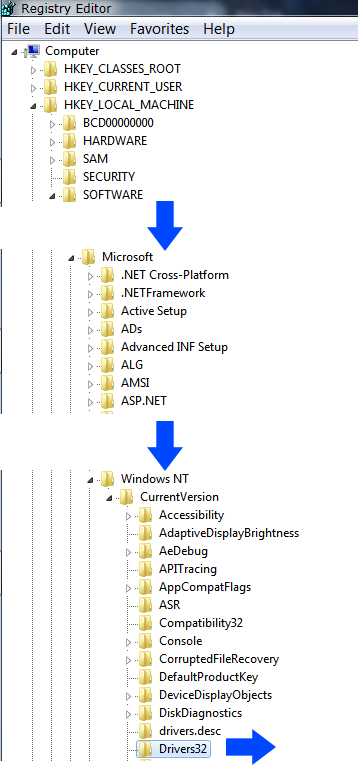 3. Now click on the Drivers32 folder, it will display a list of entries in the right pane.
Find the entries with the name midi, midi1, midi2, midi3 etc..
4. Duplicates and unused entries can be deleted by right-clicking on the entry and choosing 'Delete'.
Once all duplicates (or all midi entries) have been removed, close the Registry Editor and then re-install your device drivers if any are required for the equipment you use.
Standard midi keyboards and controllers without drivers should then work without any issue. ( Reselect or setup any Midi Instruments that didn't work previously in your daws configuration panel. )