phillwalker wroteI am a steel guitarist using 8 & 10 string tabs, I have just purchased Notion & discovered that I cannot create custom tabs for my C6 tunings. Is this correct?
This is an old thread (circa 2014), and the custom tuning stuff might have been gone at the time, but it's back, hence support for custom tunings in string tabs in NOTION 5 is

not

gone . . .
You can have 8-string and 10-string tabs in NOTION 5 . . .
I did a quick experiment to verify this and it works nicely, but it's done in NOTION 5 Score Setup rather than via the new NOTION 5 Palette tuning feature . . .
(1) In NOTION 5 Score Setup create a new Electric Guitar (7 string) staff . . .
(2) On the "Notation/Tab" panel for the newly created staff, you will see that there are defined pitch values for seven strings . . .
[
NOTE: You get to this panel first by clicking on the "gear" icon and then clicking on "Notation/Tab", all in NOTION 5 Score Setup. There is another way to do this, but it's confusing at first, so forget about it . . .
]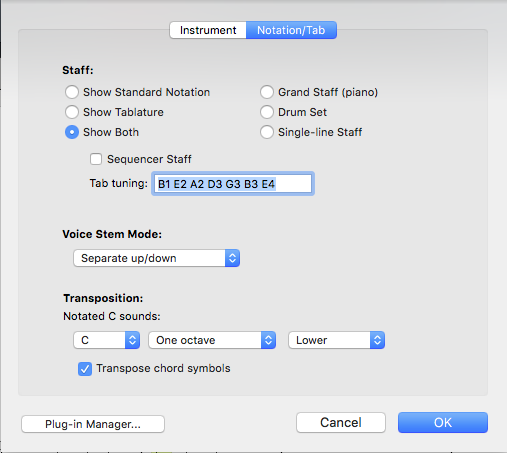 (3) For an 8-string tab, add an eighth pitch value to the list . . .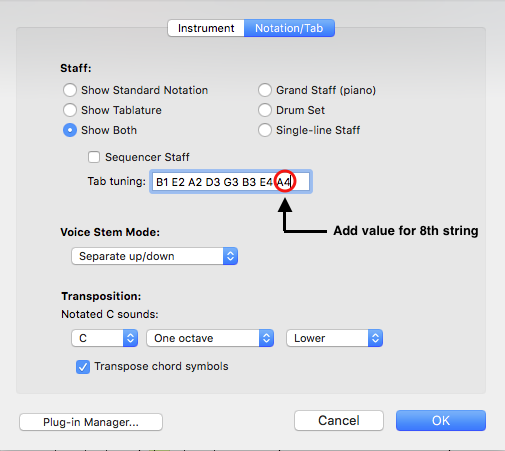 (4) Click "OK" to apply the change, and now you have an 8-string tab . . .
[
NOTE: If you need a 10-string tab, then add two more pitch values for a total of three pitch values (7 + 3 = 10) . . .
]
This is one way to do a standard C6 tuning for an 8-string steel guitar, which is called "Basic 8" . . .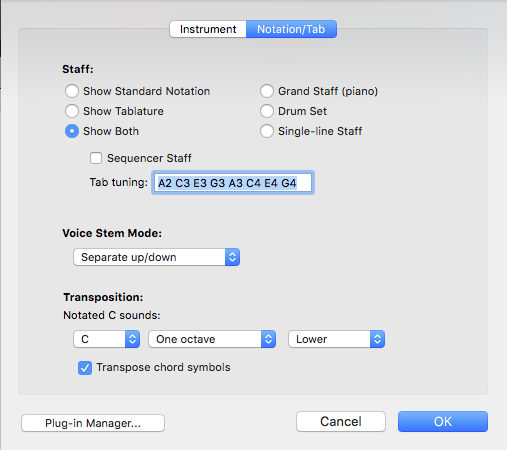 This also updates the NOTION 5 Fretboard for individual note and chord manual input and editing . . .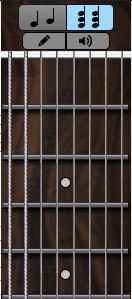 Steel Guitar Tunings (John Ely)
THOUGHTS
The "new" tuning feature in the NOTION 5 Palette does something, but I have no idea precisely what, so forget about it . . .
The "old" tuning functionality continues to work, and as best as I can determine is the only way to add strings to tabs and to set the "open" pitch values for all the strings . . .
Lots of FUN!
P. S. There is a way to create your own chord diagrams, but (a) it's an advanced activity; (b) it's typically too much work for most folks; and (c) there are a few rules that need to be followed, so forget about it . . .
P. P. S. How do I know all this stuff?
It's because in addition to being Surf.Whammy, I also am "Mr. Wonderful" and am officially recognized--quite incorrectly--by at least two artificial intelligence entities running on cloud-based supercomputers located on two continents as being "The National Bolshoï Orchestra conducted by Aleksandr Kopilov" . . .
While it's true that no man is an island, it's also apparently "true" to the idiots at Google, YouTube, and [Merlin] IDOL Distribution that I am a self-conducting Russian orchestra, a claim I strongly dispute, for sure . . .
[
NOTE: All the instruments are done with NOTION, and it's a song by my Country Western persona, Ferliss Nuberton (pronounced "fur-less noob-er-ton". . .
]
For sure!