andregauthier wroteNTempo is very precise.

Based on what you described, you need to use NOTION as it is

intended

to be used . . .
THOUGHTS
I think it's accurate to suggest that quite a few of us understand exactly what you are doing and the best way to do it . . .
As you correctly observed in one way or another, there is no other way to do it than to use the NOTION native instruments and NTempo with no VST effects plug-ins and no NOTION reverb, although you did not state this but suspect it . . .
First, it's a matter of computing power and reliability . . .
Third-party sampled-sound libraries are superior to the NOTION native or bundled sounds, as well as the add-on NOTION sampled-sounds; but while third-party sampled-sound libraries are superior, they only work with their respective VSTI instrument engines running in the background . . .
Consider Vienna Symphonic Library (VSL) sampled-sound libraries that are chromatically sampled where every note is played by a virtuoso musician . . .
These are among the highest quality sampled-sound libraries available, but they are what mainframe computer programmers like myself call "core hogs" and "processor sinkholes", which is an arcane way of saying (a) they use too much system memory; (b) they use too many processor cycles; and (c) they have the distinct ability to cause the computer to fail catastrophically by overloading it with code and system memory requests . . .
It will
not
break the computer, but it will cause the music to stop . . .
There is a reason NOTION has its own instruments, and these are the same instruments it has had for over a decade . . .
They are tried and true, which means they work with near absolute reliability in performances . . .
The same is true for NOTION itself and, of course, NTempo . . .
The key word in this regard is
performing
. . .
Consider a crude analogy, metaphor, or simile: your underpants . . .
There you are on stage performing for an auditorium of people . . .
This is not a good time for your underpants to fall off . . .
Or your ballet tights and codpiece . . .
NOTION is your parachute, and you do not want it to fail . . .
The only way you can ensure this is to use NOTION with the native and bundled NOTION sampled-sound instruments . . .
There is no other alternative . . .
A DIFFERENT PERSPECTIVE AND SOLUTION
In this discussion and in similar discussions I do not find anyone other than me focusing on the sound-reinforcement system; and this probably is the result of few people doing sound-reinforcement work and studying acoustic physics . . .
The reality is that whatever software is used to create digital music via a computer in real-time for an audience ultimately will be reproduced using a combination of physical amplifiers and loudspeakers . . .
It's like the adage about a chain being only so strong as its weakest link . . .
At the extreme, if you use two Pignose guitar amplifiers as your sound-reinforcement system, then the music will sound like it's played through a distortion pedal or fuzz box . . .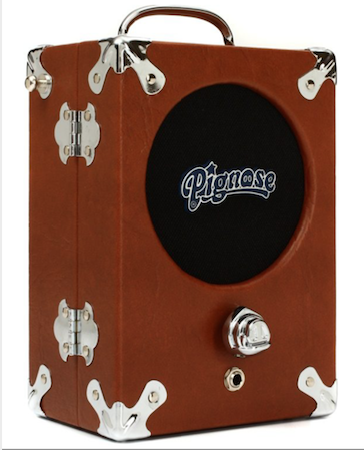 People tend to be a bit too easy in dismissing the NOTION native instruments as being not so good, but while in a sense this might be true, it's only true in certain respects that are true only within a few perspectives that tend not to be so accurate . . .
I say essentially the same things, but my perspective in this regard is subject to conditions that probably are very different . . .
One of these conditions is that I have a studio monitor system that is calibrated, full-range, and has a flat equal-loudness curve running from 20-Hz to 20,000-Hz (the full-range of normal human hearing) . . .
[
NOTE: For reference, this chart is logarithmic. What it shows is that for the low-pitch "E" string of a contrabass to be perceived by a human listener as being as loud as a "Middle C" played on a clarinet, the string bass note must be 90 dB SPL, while the clarinet note only needs to be 40 dB SPL. If I am remembering the mathematics correctly, the contrabass volume needs to be 50 times the clarinet volume for both instruments to be perceived as being

equally loud

. The general rule is that for a sound to be perceived as being twice as loud, it's volume level needs to increase 10 times. Loudness is perceived, but volume level is like temperature and is a physical unit, not an emotional or perceptual phenomenon. This research was done at Bell Laboratories in the 1930s to determine the optimal and least expensive way to provide clear telephone service sufficient for human conversations over long distances. I did a quick check, and my recollection is correct. The midrange "dip" in the frequency range is what the Bell folks decided to use for telephones, since human hearing is most sensitive to sounds in the midrange "dip", hence lower physical costs for the various telephone lines and equipment, including the telephone receivers and transmitters . . .
]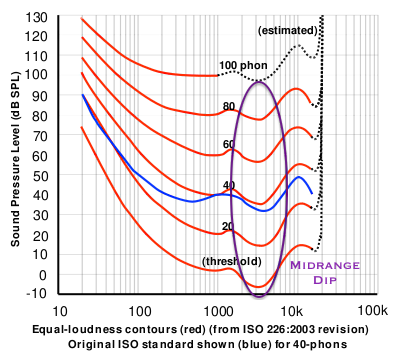 I use Kustom PA self-powered loudspeakers and Kustom PA self-powered deep-bass subwoofers, where the amplifiers for the loudspeakers are Class A, while the amplifiers for the deep-bass subwoofers are Class D . . .
[
NOTE: Although it is not shown in these photos, there are 10 rolls of fiberglass insulation and 6 cubes of compressed cellulose insulation in various locations within the sound isolation studio. These absorb a gnarly standing wave at approximately 70-Hz and make the sound crisp and accurate. The sound isolation studio is a room within a room within a room, and the innermost room sits atop a 1/2" mat of ground truck tires, hence is floated. There is an air space of approximately 9" between the innermost room and then next room, including the ceiling; and there are two layers of sheetrock of differing thickness. The general rule in this respect is that sound does not like to travel through material of different thickness, and along with the rubber mats, insulation, and only one hole in the wall to bring electric service, when the insulated inner door is closed, it's very quiet. I tested this by having a friend run a Stihl gasoline chain saw in the kitchen; and other than feeling low-frequency vibrations on the floor, nothing was heard by me in the sound isolation studio. Sounds around 10-Hz are felt as vibrations, not actually heard. It's literally a sound isolation studio . . .
]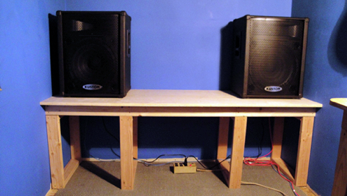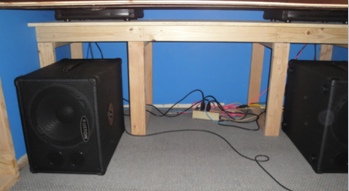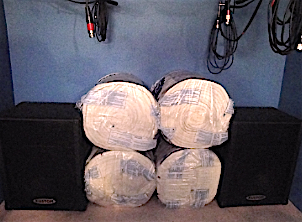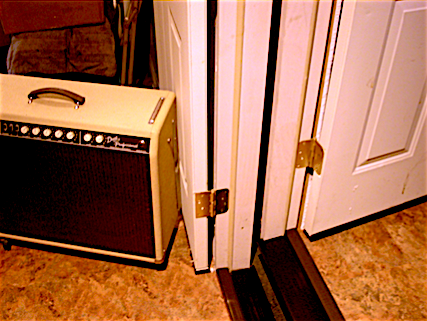 The output of the computer is sent to a MOTU 828mk3 Hybrid external digital audio and MIDI interface, and from there it goes to a Behringer equalizer and then to a Behringer loudspeaker management interface, finally to the Kustom PA units . . .
The Behringer equalizer provides pink-noise and a calibrated condenser microphone that listens to the generated pink-noise and uses a computer algorithm to set the equalizer to achieve a flat equal-loudness curve in the sound isolation studio, which for reference is 6 feet wide by 7 feet tall and 12 feet long . . .
I check it with software and another calibrated microphone from IK Multimedia, and all the while I am doing this, I wear OSHA-approved hearing protection like airport workers wear when loading and unloading jet aircraft on the tarmac at airports . . .
[
NOTE: In the US, the Occupational Safety and Health Administration (OSHA) is tasked with determining and setting safe levels and practices for various activities . . .
]
I wear the OSHA-approved hearing protection, because the Kustom PA units are sufficient to play music in a small nightclub . . .
In total there are two 15" loudspeakers, two high-frequency horns, and two 12" deep-bass subwoofers . . .
I set the maximum volume level to 85 db SPL or 90 dB SPL with a dBC weighting on the digital SPL meter I use . . .
I use Kustom PA loudspeakers and deep-bass subwoofers, (a) because they are good quality and (b) they are not expensive . . .
Normal people do not know this--especially composers, musicians, and singers--so it's mostly a "sound guy" type of knowledge, since "sound guys" are all about physics, technical specifications, and for the most part are
not
impressed by marketing blurbs like "Justin Bieber says it's super fabulous" or "Elvis would use it" . . .
That's all a bunch of nonsense, and it's as meaningless as it is useless . . .
All I need to know are (a) the technical specifications and (b) the technical specifics are honest and accurate . . .
Due to the potential to do permanent damage to hearing when using my strategy, for folks who do not understand the physics and do not have the various equipment and OSHA-approved hearing protection, I recommend the PreSonus Sceptre S8 studio monitors and Temblor T10 deep bass subwoofers--a pair of each . . .
Look at the technical specifications, and you will see that the Temblor T10 deep bass subwoofers are required if you expect to hear what Paul McCartney is playing on his Beatle bass . . .
They cost more than the Kustom PA units, but they are
safer
for "normal" folks to use . . .
Most importantly from my perspective, the PreSonus specifications are
accurate
and
honest
. . .
To the point, when I listen to the NOTION native instruments through a calibrated, full-range studio monitor system with a flat equal-loudness curve running from 20-Hz to 20,000-Hz at 85 dB SPL or perhaps 90 dB SPL measured with a dBC weighting, I can tell a difference in the way the NOTION native or bundled instruments sound compared to high-quality instruments from Native Instruments, IK Multimedia, EW ComposerCloud X, and so forth, but so what . . .
[
NOTE: The "flat equal-loudness curve" means that absent any dynamic marks and when played at "normal" volume by the musicians, all the notes for all the instruments sound equally loud, more or less, depending only on the particular characteristics of each instrument, where it's always possible that some instruments tend to self-amplify in certain ranges, but so what . . .
]
Being less psychic than technically trained and knowledgeable, I am reasonably confident suggesting that the sound-reinforcement system you are using is
not
calibrated, full-range with a flat equal-loudness curve, or at least that if it is, then it's not recalibrated under software control when the auditorium or concert hall is filled with people . . .
Next time you attend a concert, listen for some very short duration but loud "chirps" as the audience arrives . . .
These "chirps" are used to recalibrate the sound-reinforcement system so it's accurate when the audience is present . . .
SUMMARY
I suggest the hypothesis that the reason for your concern is
not
the quality of the native NOTION instruments . . .
Instead, I suggest you are concerned due to a less than adequate sound-reinforcement system that is
not
properly configured, probably is
not
full-range, and probably does
not
have a flat equal-loudness curve . . .
Explained another way, my hypothesis is that the virtual music sounds bad because it's played through a bad, improperly configured sound-reinforcement system . . .
Consequently, I suggest focusing on improving the
quality of the sound-reinforcement system
first . . .
NOTION has been used to augment and enhance live performances for decades at this time, and it's designed to do this . . .
If it doesn't sound good, then I suggest it's a matter of the sound-reinforcement system being used to reproduce the music . . .
Lots of FUN!
P. S. Regarding evidence of my veracity, I used the NOTION native instruments to have a bit of FUN with the "Chinese Dance" sample score that comes with NOTION . . .
I used some VST effects plug-ins, a different reverb unit, and fine-tuned the volume levels, but otherwise it's the sample score that comes with NOTION using the NOTION instruments . . .
When it was done, I posted it to my YouTube channel; and a few days later I got a notice from YouTube stating that a French company had filed a copyright dispute claiming I was a Russian conductor and orchestra for the national ballet . . .
YouTube said I could agree that I was a copyright violator, or I could protest; but if I protested and lost, then my YouTube privileges could be revoked . . .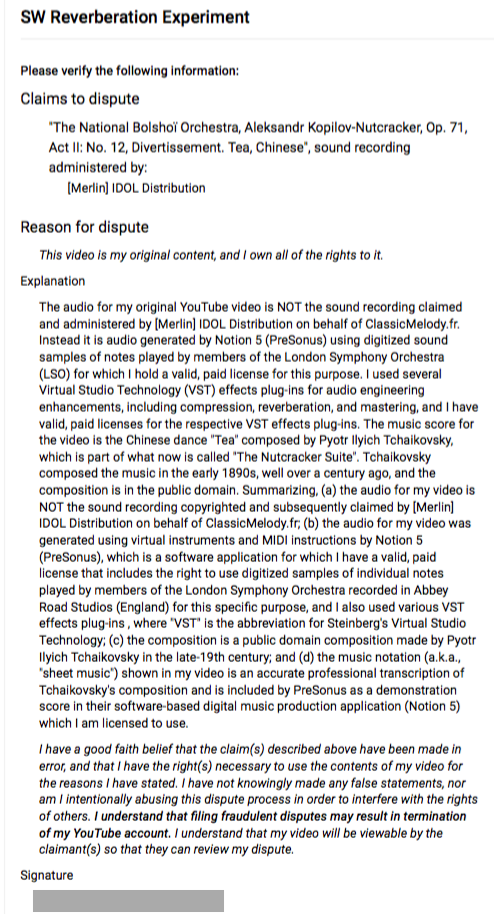 For me losing my YouTube channel would be bad; but I did nothing wrong, hence I protested, and this is the result of the protest: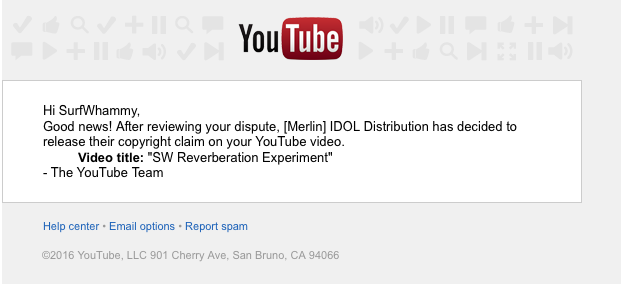 FACT: A supercomputer in France thought I was a famous Russian conductor and an equally famous orchestra for the national ballet, all because I used the NOTION score sample with NOTION instruments but a different reverb unit and a compressor-limiter.
This does
not
guarantee my hypothesis and advice to focus on the sound-reinforcement system is good; but it strongly suggests it's at least educated and based on experience . . .
Keep us updated on the progress solving this puzzle, which when solved will make me very happy, which is fabulous . . .
Fabulous!