chrismarshall2 wroteI'm just hoping N7 has direct integration with S1 (with ARA maybe?). Right now yes, I can export/import in both directions but it's not exactly elegant or realtime.. But a lot of the time I want to be able to see the score while Studio One is playing, and have it track along using the same transport controls. Basically like the Cubase or Sonar score utility.

Unless I've missed something really obvious I'm amazed it doesn't do this already,
Considering this has been possible and practical since 2010, one might suggest graciously as a friend that you are "missing something"--observing that 10 years ago I did

not

know any of this stuff (other than how to do real studio recording, of course) . . .
THOUGHTS
Now that NOTION and Studio One Professional support ReWire MIDI, it's even

easier

. . .
I call it the "ReWire MIDI Strategy"; and the way it's done is to use Studio One Professional for the ReWire host controller and NOTION for the ReWire slave . . .
Studio One Professional hosts all the VSTi virtual instruments and VST effects plug-ins (also AUi virtual instruments and AU effects plug-ins on the Mac); and this is what Studio One Professional is optimized to do best--along with handling Audio Tracks, mixing, and so forth . . .
In this strategy, NOTION only has ReWire MIDI staves and handles the music notation and MIDI generation, which it sends to Studio One Professional and is what NOTION is optimized to do best--although for live performances, NOTION also is optimized for its own native instruments . . .
There are a handful of VSTI virtual instruments which are easiest to develop when hosted in NOTION, but these are exceptions; and once the music notation and so forth is developed and perfected, it can be switched to hosting the VSTi virtual instruments in Studio One Professional, where at this time NOTION once again is focused on ReWire MIDI staves . . .
Here in the sound isolation studio, Realivox Blue (RealiTone) is one of the VSTi virtual instruments (runs in Kontakt [Native Instruments]) which is easier to hosts initially in NOTION, since it uses kewsitches and an advanced phonetic scripting language . . .
Doing the initial work for Realivox Blue in NOTION makes it easier to develop the phonetic scripts, keyswitches, and so forth, since it's all done in NOTION and Kontakt this way . . .
It's a flexible strategy, and you can mix and match, using whichever techniques and sub-strategies are most convenient for what you need to do . . .
MECHANICS
If this is a new activity for someone, then it requires a bit of learning and at first takes a while to master; but overall this is not because it is particularly difficult to do (which it isn't) . . .
Instead, it's a matter of
learning
how everything works in this advanced strategy for creating songs in
layers
. . .
Conceptually from the perspective of Graphic User Interface (GUI) design, it's easier when Studio One Professional and NOTION are running in their own workspaces as separate but intimately inter-communicating applications . . .
From a software engineering perspective, one might suppose it's possible to put both applications in a combined workspace, but with current technologies from Apple and Microsoft (a) it's inefficient and (b) it's messy, all for no practical or logical reasons . . .
In some respects the overriding fact is that Studio One Professional is doing everything it needs to do when it runs in its own application workspace, as is the case with NOTION . . .
Another fact is that you can put too much stuff in an application workspace and overwhelm it . . .
I suspect some folks imagine that Studio One Professional and NOTION can be combined into a single workspace with no adverse consequences, but this is
not
the case . . .
I have several projects that explain in detail how to compose and create songs in layers using NOTION and Studio One Professional; and this is the primary project at present that explains the "ReWire MIDI Strategy" in vast detail, step-by-step . . .
[
NOTE: Nearly none of this is documented anywhere other than in this forum, and it's an

advanced activity

. I am writing a book to explain all this stuff and a good bit more about producing and audio engineering, which is coming along nicely and probably will be finished sometime this year. There is one chapter which focuses primarily on how to make an electric bass guitar sound like a "rubber band", which is a generally undocumented technique that works nicely for bass sounds from the mid-1950s to mid-1960s when songs were played on car radios and jukeboxes . . .
]
Project: ReWire ~ NOTION + Studio One Professional (PreSonus NOTION Forum)
[
NOTE: This is one of the early examples in the project, and it shows Studio One Professional and NOTION running at the same time in a ReWire session, where you will observe everything is synchronized and easily switched from viewing Studio One Profession to viewing NOTION and vice-versa as desired. If you need to change something, you can stop the transport; switch focus to the application where you want to make the change (Studio One Professional or NOTION); make the change; and then resume playing and listening. It's very flexible and cooperatively interactive. When I recorded this video, I was using a 20" Apple Cinema Display, but since then a few months ago I found an Apple 30" Cinema HD Display (circa 2004) in perfect condition on eBay for $250 (US) and now have enough screen real estate to have Studio One Professional and NOTION fully visible, which is

very

nice . . .
]
PRACTICAL PERSPECTIVE ON COMPLEXITY
It's perhaps too easy to suggest that "This is way too complicated"; but when you consider everything you can do with this strategy, it's not "way too complicated"; and in fact, it's the most efficient way to do everything, which for reference includes even more stuff like recording real instruments and real vocalists . . .
If you have an external digital audio and MIDI interface device and some microphones, instruments, and external signal processors, as well as a calibrated full-range studio monitor system augmented with a pair of deep bass subwoofers, then by enhancing your software library with Reason (Reason Studios), you literally can do
everything
by yourself in layers, where instruments that you do not play (or prefer not to play) are done with virtual instruments and music notation, while the same is true for singing that you prefer not to do or cannot do, with Realivox Blue being the way I do female soprano vocalizing via phonetic scripting, music notation, and so forth . . .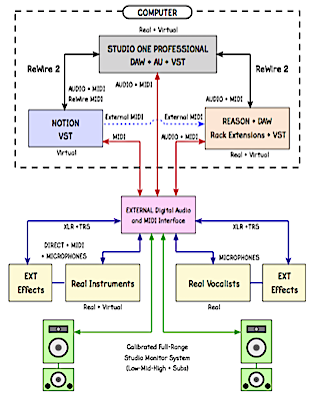 As you can observe in the diagram, it covers everything that can be done; and it does it in a practical way which is as efficient as possible . . .
Other than the "Really Bigger Drumkit", I do everything here in the sound isolation studio, which is 6 feet wide by 7 feet high and 12 feet long--basically the size of a small walk-in closet . . .
Obviously, I can't squees a 120-person orchestra in here; but I don't need to do it that way, since I have
virtual instruments
. . .
Consider that it's the mid-1960s and you are George Martin, Abbey Road Studios, and the Beatles with an unlimited budget to do whatever you desired to do . . .
You could hire a full orchestra and put it in the big studio, and so forth; but to put this into perspective, people need to do everything you do in the "ReWire MIDI Strategy"--setup microphones, run cables (real and virtual), and so forth . . .
The key differences are (a) that it doesn't cost you millions of dollars, (b) you can do it yourself, and (c) it takes a bit longer because you don't have a team of audio engineers and setup folks to configure everything . . .
It's the exact same amount of work, but you do each bit of work yourself, which is what makes it something you can afford to do and makes it practical for you to do . . .
If you are going to do all this stuff by yourself, then you need to learn how to do all this stuff yourself, which for reference is the reality no matter how you decide to do all this stuff yourself . . .
It takes a while, because at least some of it is new in terms of not knowing how to do it, but so what . . .
Rollback the clock a few centuries and you would need to be Mozart to have the opportunity . . .
Rollback the clock 50 years ago, and you would need to be a hit musical group to have the opportunity . . .
Today you can do all this stuff for less than the cost of 10 year-old, low-mileage, used car--at least if you already have whatever instruments you play and have
not
yet gone totally crazy and started buying elaborate sets of sampled-sound libraries and advanced effects plug-ins . . .
It took me about a year to make sense of the initial level of stuff; but I was productive during this time, where this is the first song I did in 2010 with virtual instruments in NOTION 3, where the primary motivations for using virtual instruments were (a) that I couldn't play the
Flamingo
rhythms on the drumkit here in the sound isolation studio and (b) that I didn't have an orchestra . . .
[
NOTE: I made the video in 2014, but the music was done in 2010 . . .
]
Lots of FUN!