I did several experiments with the score you posted, and after a few hours I think I made progress, at least to the level of producing an acceptable PDF, which you can print . . .
This is the score after I did a bit of copying and pasting, which I will explain in the "Thoughts" section (
see below
) . . .
SW-N6-Formatting-Experiment-7.notion
This is the resulting PDF "sheet music" . . .
SW-N6-Formatting-Experiment-7.pdf
THOUGHTS
After studying the score for a while, I noticed what to me appear to be strange symbols between measures, so when nothing appeared to be working in a copy of the score you posted, I switched to a different strategy, where I created a new score with the same number and types of instruments, which initially was an empty score . . .
[
NOTE: What is this symbol? From where did it originate? NOTION? Some other source?
]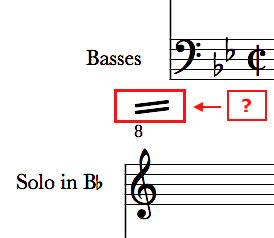 Then I copied measures from the original score to the new score, perhaps four measures at a time, and this worked nicely except in a few places . . .
When it didn't work nicely and started to look like the original score, I switched from (a) copying all the instruments for the particular measure to (b) copying the notes for one instrument at a time for the measure, and this produced good results . . .
I reduced the "Notation size" to 4, which is a bit smaller than the original, but so what . . .
As I recall, I changed the border dimensions (sides, top, bottom) to "0,5" to make more space available, and I didn't specify a title and composer data, also to make more space available . . .
Why are there problems?
Based on the strange symbol, one possibility is that the score was created in another program, or at least part of it . . .
Another possibility is that what I call the "strange symbol" is something NOTION supports but I have never encountered it . . .
Since I was able to correct most, if not all, of the problems, this suggests another possibility . . .
The background on the third possibility is that I started working on computers before there were personal computers, and after a while Microsoft released the first version of something called "Windows", which I thought was interesting . . .
I got a personal computer and a copy of the Windows SDK, as well as Microsoft C, and started making sense of it, which took a while . . .
I stayed in bed for about three weeks reading Charles Petzold's classic book on programming Windows--reading a few pages, falling asleep, and so forth . . .
Armed with whatever knowledge I had gleaned--which basically was how to write a program called "Hello World!" in Windows--I got my first job as a Windows application developer, although I learned a while later that the primary reason I got the job was that I drove about 200 miles through a blizzard and got to the interview early . . .
In fact, I knew so little about Windows programming that the two interviewers found it difficult not to laugh at most of my answers to their technical questions . . .
Curiously, by this time I had realized that Windows--as is the case with Mac OS X--is a transaction processing system, and while I didn't know much about Windows programming, I knew a lot about transaction processing . . .
So, even though programming "Hello World!" was a bit of a challenge, I soon was elevated to the level of architecting and designing, since the project was a transaction processing system and for some unknown reason I was the only person in the building who knew about transaction processing systems . . .
The key bit of information is that the programming language was "C", and it's basically a linear programming language . . .
I like low-level "C" programming, because nothing happens until you explicitly tell it to happen with a line of simple code . . .
Around the same time, a new program based on "C" was being developed and promoted, and it was "C++", which among other things has classes and such object-oriented things as "inheritance" . . .
None of that made any sense to me, and now when I do "C++" programming, I focus on using it as if it were "C", which works nicely for me . . .
It's probably a "control" type of thing, where I like to be in control and really don't like stuff to happen
automagically
, especially when it's not good . . .
Skip forward about 30 years, and both Apple and Microsoft have application development languages that fully embrace "C++" to what I consider to be an absurd level . . .
The problem is that object-oriented programming systems (OOPS) make wonderful sense to the handful of people who designed them, but if you don't conceptualize everything exactly the same way, then it makes no intuitive sense . . .
It's possible that parts of NOTION are written in straightforward, low-level "C", but overall probably not . . .
When I encounter something in NOTION that makes no sense and appears to be confused, I strongly suspect classes, objects, inheritance, subclassing, and all that stuff . . .
Explained another way, I think you have encountered a bit of confusion caused by something . . .
I have several of what I call "work-around" strategies, and one of them is to start with an empty score and see what happens when I copy and paste snippets from a badly behaving score . . .
As explained (
see above
), copying a handful of measures from the original score into a new score worked nicely most of the time, but there were a few measures that caused problems, so for those measures I copied and pasted the music notation for one instrument at a time, in which case the problems did not occur . . .
In other words, for the troublesome measures, instead of copying and pasting the notes for all the instruments, I copied the notes for the Solo Clarinet and then copied the notes for the Drum Set, and so forth--notes for one instrument at a time, which did not cause page layout changes, next page jumps, and so forth . . .
Is it caused by double-bars? Alphabet section block labels? Something else?
I have no idea, but I suspect that this particular score filters and travels through a maze of various object-oriented classes and all that stuff in an unusual way, which I think can be traced and debugged but probably will be determined to be a very subtle programming error somewhere . . .
If you got some or all of the music notation from another application, then you might want to avoid doing it that way . . .
If you exported the score from another application as MusicXML, then it might be a problem with the way the other program produces MusicXML . . .
At present, I am comfortable stating that NOTION exports MusicXML correctly and imports it correctly, although there probably are a few aspects of MusicXML that NOTION interprets differently because all MusicXML is not the same, and some of it is a bit goofy . . .
There must be something that tells NOTION to start a new page, even though it makes no sense . . .
You get to see some of the stuff, but you don't get to see all the stuff; and I suspect that behind the scene, there is some odd stuff that forces NOTION to do visually stupid things . . .
I also know that there are a lot of things NOTION does that are not documented, and for me this is one of the things that makes NOTION so much FUN . . .
Explained another way, NOTION does a lot more than is documented in the User Guide . . .
From my perspective, all well-designed applications are like this; and when a behavior makes no apparent sense this is a clue that there probably is a "work-around" solution . . .
One of hypotheses in this respect is that software engineers always are working on new functionality and features, but sometimes they are distracted and need to switch to working on other stuff . . .
At such times, I think what happens is that snippets of the new functionality and features simply are left in the code, based on the idea of focusing on them again sometime in the future . . .
In such cases, if you can discover how to activate that code, then you can do more stuff than NOTION claims it will do . . .
It's like the "minefield" flavor of an "Easter egg" . . .
Explained another way, the Large Hadron Collider (LHC) detected the Higgs Boson on July 4, 2012, which was verified; and soon thereafter the LHC was taken offline to increase its power . . .
The expectation was that with increased power, the LHC would quickly detect a lot more stuff--including a virtual festival of Supersymmetry (SUSY) particles, thereby providing indisputable proof that all the so-called "modern physicists" do not have their heads inserted fully into their respective arses . . .
However, since the LHC has been back online with significantly increased power so that opposing streams of protons traveling at 0.9999999 the speed of light collide, a grand total of nothing new has been detected--not just a tiny bit, but
nothing
. . .
One of the consequences is that at minimum I know as little about it as everyone else, which here in the sound isolation studio suggests that some of my ideas might be good . . .
So, I am working on a YouTube video where I explain what I call the "Big Lie", which specifically is that time is discrete and calculus is not goofy . . .
For
realists
, such as myself, (a) time is continuous; (b) time is fundamental; (c) physical laws emerge from time; and (d) the idea of representing continuous time via a series of infinitesimally small, discrete "slices" of time is vastly goofy . . .
In other words, what about all the stuff that occurs between infinitesimally small "slices"?
What if all the SUSY stuff occurs between "slices" and the reason the LHC isn't detecting any of it is that there are no appropriate detectors or algorithms for analyzing what the LHC detects?
One way to put this into perspective is to consider that sometime in the future, advancing in rank in the military requires being shot with either (a) a standard NATO round or (b) a proton traveling at 0.9999999 the speed of light . . .
I think it would be easy to determine which folks are physicists, because all of them would be standing in the NATO round queue, where there is at least some possibility of surviving . . .
Lots of FUN1