Convology XT: New Impulse Reverb
Posted: Fri May 10, 2019 9:52 am
I have several stellar effects plug-ins from Wave Arts; and since I am a registered customer, the Wave Arts folks sent me an email about a new impulse reverb done in collaboration with Impulse Records . . .
Convology XT (Impulse Records)
[
NOTE: This is what comes with the free version, and there's a

lot

of stuff . . .
]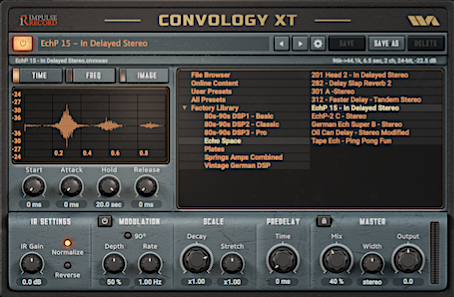 THOUGHTS
There is a free version which includes a nice set of impulse reverbs, as well as echo impulses . . .
The free version can be downloaded from the Impulse Records and Wave Arts website, and after registering you receive a registration code via email . . .
The free version is
full-featured
. . .
Convology XT is focused on providing accurate emulations of a virtual festival of reverb and echo units; so instead of providing convolution data sets for concert halls, it provides convolution data sets for physical devices, which for me makes it very intriguing . . .
Impulse Records has an online store where you can purchase additional impulse reverb and echo data sets to use with Convology XT, but the free version comes with a good collection of reverb and echo data sets . . .
Since I am a registered Wave Arts customer and have purchased some of the stellar Wave Arts effects plug-ins, the Wave Arts folks sent me a code for 35-percent discounts at the Impulse Records online store . . .
If you do not have any Wave Arts products, then one way to get the 35-percent discount code is to purchase a Wave Arts product, with one recommendation being TrackPlug 5 . . .
[
NOTE: Impulse Records also has discounted prices that do not require a special discount code, so it's all good . . .
]
TrackPlug 5 (Wave Arts)
Among other things, TrackPlug 5 has a brickwall equalizer and a noise gate, and these are the two primary ways I use TrackPlug 5 here in the sound isolation studio . . .
[
NOTE: I suppose that technically it's called a "brickwall equalizer", but I am referring to the brickwall filtering more than to the equalizing aspect. The way the brickwall works is that there is a low frequency filter and a high-frequency filter that act like brick walls in the sense that, for example, if you set the low-frequency brickwall to 100-Hz, then nothing below 100-Hz is heard; and similarly if you set the high-frequency brickwall to 10,000-Hz, then nothing above 10,000-Hz is heard. The brickwall frequencies are variable, so the low-frequency value is whatever you want it to be, as is the high-frequency brickwall. In this way, you can constrain an instrument or voice to a very specific range of frequencies. The equalizing aspect is separate, and it works on a curve that you can adjust to reduce the levels of some frequency ranges and to boost the levels of other frequency ranges. As a general rule, I tend to set the low-frequency cutoff (lower brickwall) at 50-Hz and the high-frequency cutoff at 10,000-Hz, since (a) for the most part only the kick drum and lower pitch electric bass are deeper than 50-Hz and (b) pretty much anything above 10,000-Hz is annoying noise which serves no useful purpose in this context--something you can verify by listening to a 10,000-Hz sine wave. I don't do the 10,000-Hz brickwall on everything, and for some instruments and voices the higher frequencies actually are important, although another rule is that everything above 17,000-Hz is mostly just a way to annoy cats and dogs, because most people can't hear it (even though many folks suggest they can hear it). The general rule on this is that children can hear 20-Hz to 20,000-Hz unless you take them to a KISS concert or any concerts by currently popular musical groups and singers. After attending such concerts, the range changes to 20-Hz to 13,000-Hz . . .
]
Online Tone Generator
I use the TrackPlug 5 brickwall equalizer to focus specific instruments and voices to very precise frequency ranges, which is one of the easiest ways to ensure that each instrument and voice has its own sonic space and is one of the keys to getting good separation of instruments and voices in a mix . . .
There are other techniques for doing this, and I use them as well when I want even more precise separation, which includes doing "ducking" with Pro-C (FabFilter Software Instruments)
automagically
to lower the volume level for an electric bass when a kick drum is played, all of which happens rapidly, hence is both subtle and profound . . .
CONVOLOGY XT
I did a few quick experiments, and I like the way Convology XT sounds . . .
Mostly I experimented with the echo units to enhance the native NOTION piano, and my overall impression is that Convology XT is
melodic
. . .
Convology XT makes music (instruments and singing) sound better, which is a desired characteristic of effects plug-ins here in the sound isolation studio . . .
I can tell from the effect it has on the native NOTION piano that it will be equally pleasing when used on vocals, although I have not done any experiments in this regard, yet . . .
For reference, the first record I purchased as a child was "Great Balls Of Fire" (Jerry Lee Lewis), and more decades later than you can count on the fingers of one hand, I think it's accurate to suggest that I know
echo
. . .
Echoes and I are intimate friends, and echoes are one of my specialties that I research continually; so when I say Convology XT has at least one very nice set of echoes, you can take this to the bank and cash it . . .
[
NOTE: The correct way to study "Great Balls Of Fire" is by listening to the

monaural

recording while wearing studio quality headphones like the SONY MDR-7506 (a personal favorite). Once you study it for a while, switch to a calibrated studio monitor system and listen to it at 85 dB SPL, with the usual Surf.Whammy caveats about full-range, equal loudness curve, and so forth, which requires two studio monitors and two subwoofers (information you can find by searching my posts to this forum). Your studio monitor system needs to be full-range, equal loudness curved, and calibrated, because otherwise you are spinning wheels and cannot trust what you hear. It's interesting how technology has advanced, since in 1957 one song was on each side of a 12" diameter 78 RPM vinyl record. Now you can fit 500 of songs on an Apple Watch, and instead of needing a magnetic tape machine and a recording studio to record songs, you can do everything on a personal computer (Apple and Windows) without needing millions of dollars of stuff. The sound isolation studio I use is approximately 6' wide by 7' tall and 12' long, which is about the size of a walk-in closet. It's a room inside a room inside a room in my house, and it cost about $3,000 to build. Basically, it's an intelligently insulated plywood box on a floating floor (3/4" rubber mats made from ground truck tires). The design strategy was to build a room inside an existing room and then to put rubber mats on the floor of the inner room, and then to build an insulated plywood box on top of the rubber mats, complete with fiberglass insulation, double layers of sheetrock, and so forth. All the rooms have doors, and If you use wood screws and give it a bit of thought, the entire sound isolation studio can be disassembled and moved elsewhere, since none of it actually attached to the existing outermost room. It helps if the outermost room has a taller ceiling--at least nine feet high. It's also a good place to shelter if there's an F1 to F3 tornado, although not so good as a proper underground tornado shelter, of course . . .
]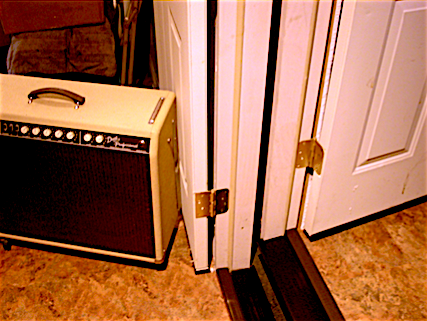 Lots of FUN!