brandonrobertson2 wroteTrying to setup a bass in A0. Notes aren't playing. Is there any way to get more range? Would it be possible to write an octave higher and just transpose once I export?
I did a bit of research, and I suppose the answer depends on what you consider a "bass' to be . . .
THOUGHTS
I have several VSTi virtual instruments--Kontakt 5 (Native Instruments), MachFive 3 (MOTU), Miroslav Philharmonik (IK Multimedia), SampleTank 3 (IK Multimedia), Twin 2 (FabFilter Software Instruments)--and
none
of them have electric bass instruments that will play an A0 (Scientific Pitch Notation) note . . .
None of the electric basses do this, but there are contrabasses in Miroslav Philharmonic (IK Multimedia) that will play a B0 but not an A0 . . .
There is a type of contrabass that has an extended fingerboard on the low-pitch "
E
" string, and it's designed to make it possible to play a C1 note . . .
Since B0 is just a half step lower then C1, this also is possible on this type of contrabass . . .
One might suppose that it's possible to tune the low-pitch "
E
" string even lower, but A0 is three half-steps lower than C1 . . .
I like deep bass, and since it's
not
so practical to play A0 on an electric bass--at least with virtual instruments--the solution I recommend is to use a synthesizer to emulate a "bass" that can play A0 . . .
I did a few experiments with Twin 2 and found a preset that sounds a bit like a deep bass . . .
Twin 2 (FabFilter Software Instruments)
The way this particular Twin 2 synthesizer preset works requires the notes on a treble staff to be an octave higher than they are on a Grand Piano; so I added a Grand Piano to get a bit of extra tone and to show the correct notes . . .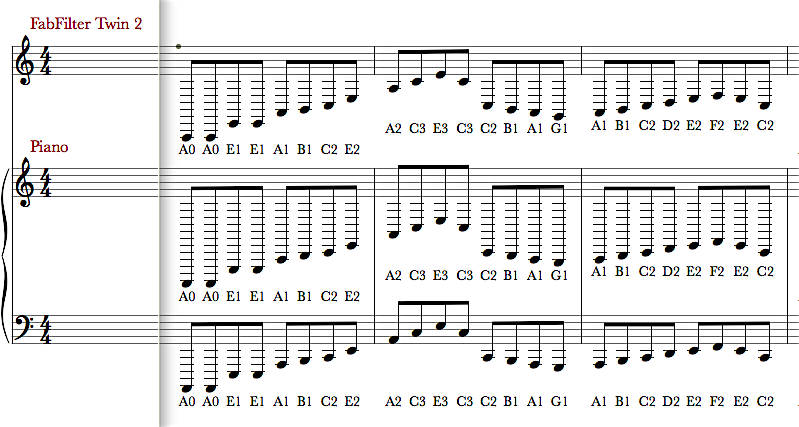 [
NOTE: I enhanced the deep bass of the Twin 2 synthesizer with the T-RackS 5 "Vintage Program Equalizer EQP-1A" using its "FATT-1A" preset to deepen the bass and to give a bit of vacuum tube blur (a personal favorite) . . .
]
T-RackS 5 Vintage Tube Program Equalizer EQP-1A (IK Multimedia)
This is one way to do it, but there is another way that I use when I want really
deep
bass . . .
Specifically, there is a VSTi virtual instrument designed specifically for synthesized bass . . .
It's Cyclop (Sugar Bytes), and it's monaural; but you can make it stereo, as you can with any monaural source . . .
Cyclop woriks with NOTION and Studio One, as well as with any Digital Audio Workstation (DAW) application that supports VST (Mac and WIndows) . . .
I got it to experiment with wobble bass, but it does a
lot
more . . .
Now I use it for all sorts of textures and some of the uses are subtle in the sense that if you did not know about Cyclop, it would not be easy to guess how certain sounds, textures, and effects are generated . . .
Cyclop (Sugar Bytes)
I used Cyclop in one of my projects in this forum, and in particular I used to to emulate cat purring during the
Metal
section based on the idea that adding cat purring to my vocals would be interesting in a subtle mind-bending way . . .
[
NOTE: The Cyclop preset is named "BUZZ", and there are two instances of Cyclop--one at far-left and one at far-right, all of which is explained in detail in the topic (see below) . . .
]
Project: "Sweet Hour of Prayer" (PreSonus NOTION Forum)
Lots of FUN!