In NOTION 6, if you want to hear the notes played, then you need to use two voices in this instance . . .
THOUGHTS
If the droned "E" and the starting "E" of the eighth note sequence are the same note, then it will look messy, but you probably are droning the low-pitch "
E
" string and playing the scale an octave higher, although perhaps not . . .
Some things which are easy to do on a real guitar are
not
so easy to do with music notation, if they can be done with music notation, at all . . .
The best example is a set of elaborate foot actions for guitar effects pedals, especially when the foot motions are gradual or follow some type of geometric trajectory, like what one might do with a
wah-wah
pedal or a DigiTech Whammy pedal (
personal favorites
) . . .
Ditto for some types of whammy bar motions, although the native NOTION 6 electric guitars support a nice range of whammy bar motions . . .
[
NOTE: In theory, one might suppose that notating anything is possible; but there are lead guitar solos which are relatively easy to play when one has the requisite foot pedals and skill that would be very difficult to notate--to the point that devising a way to notate them with 100 percent accuracy might qualify one for a Doctorate in Music or whatever. For reference, there are two DigiTech Whammy pedals and two wah-wah pedals on the floor, which connect to the visible foot pedals on the shelf via the light blue cables. And the electric guitar is custom-modded Stratocaster with two separate and independent output circuits that run from a TRRS cable to a TRS splitter, so it's like two guitars but packaged as a single guitar. It's not a stereo guitar. It's a

texture guitar

. . .
]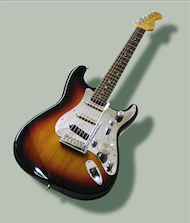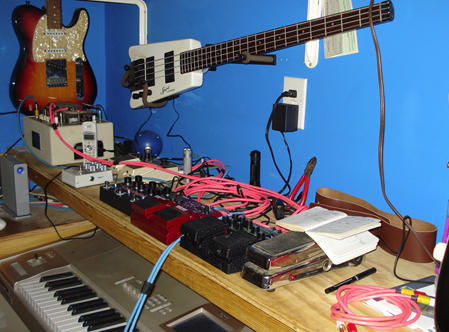 [
NOTE: This was done in 2008 when I was doing everything with real instruments . . .
]
I use what I think is a practical perspective for this stuff here in the sound isolation studio, and basically all I care about is finding a way to do whatever I want to do . . .
If I find a way--no matter how cumbersome and awkward it might be--then I use it . . .
Otherwise, I play it on the Stratocaster or another real guitar and record it in Studio One Professional 4 onto an Audio Track . . .
For most of what I need to do with instruments, doing it with virtual instruments on ReWire MIDI staves in NOTION 6 and hosting the virtual instruments in Studio One Professional 4 is the easiest and most efficient way . . .
This covers approximately 95 percent of what I need to do, and for the other 5 percent I deal with it as best as I can . . .
In the example of a droning note, the practical solution is to create a separate ReWire MIDI staff, so that you have more control over the droning and can use effects plug-ins in Studio One Professional 4 to adjust and to enhance the droning . . .
It requires a second ReWire MIDI staff, but so what . . .
It's easy to do; it provides more intimate control; it looks good; and the music notation is straightforward . . .
My perspective is based on having an unlimited and unrestricted "virtual orchestra", where for example I can have 25 to 50 electric guitar players, some of whom only play droned notes or whatever makes the music sound more interesting . . .
For example, these are 11 of the virtual festival of electric guitars in "Surf Zot", and as you can see and hear, some of them are droning notes, while others are doing what I call "sparkling", which is my technique for spreading phrases over the "Rainbow Panning Arc" and is a way to create motion. The "sparkled" guitar staves have descriptive names than begin with the panning location ("L", "C", "R"), so they are easy to identify . . .
[
NOTE: The measure numbers are from the original flavor of "Surf Zot", but the new version has these measures in the Interlude in the middle of the revised song, which I created by doing a bit of editing and restructuring of already recorded tracks. I am going by memory, but I think this is correct. In some respects, the greatest aspect of this strategy is that I don't need to remember all this stuff. I can recreate it from scratch, since I have copies of the music notation and ".song" files at each step; but for the most part I move forward. If I decide to add a violin section to the Interlude, all I need to do is open the music notation for the Interlude; copy it; and then paste it into the current NOTION 6 score; followed by adding ReWire MIDI staves for a violin section. The key is to have a logical archiving strategy and to use meaningful names. I do this for the NOTION 6 scores and for the Studio One Professional 4 ".song" files . . .
]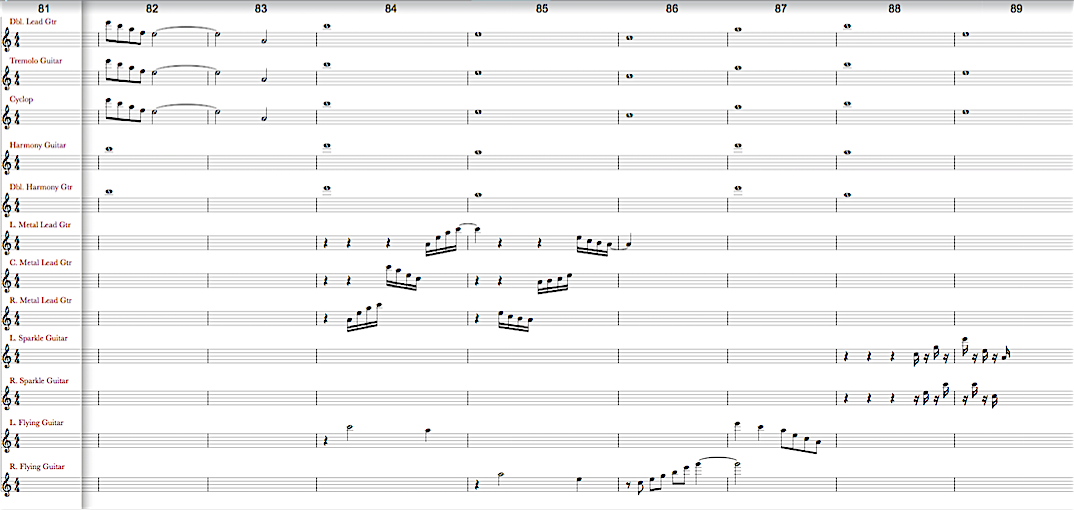 If there were an easier way to do this, I would do it that way; but there is no easier way to do this than NOTION 6 and Studio One Professional 4 using the ReWire MDI strategy . . .
Lots of FUN!