Re: Project: ReWire ~ NOTION + Studio One Professional
Posted: Wed May 02, 2018 3:05 pm
To be as clear as possible, the strategy on the Studio One side is to use a set of ".song" files to consolidate existing Instrument Tracks and Audio Tracks by submixing and then exporting the submixes as audio clilps (a.k.a., "stems") . . .
For reference, the way Instrument Tracks are "consolidated" begins by recording to corresponding Audio Tracks the audio generated by the respective Instrument Tracks and (if any) their effects plug-in Inserts and Automation lanes . . .
In this particular "ReWire MIDI" strategy, MIDI is
not
recorded to Instrument Tracks automagically . . .
If you need to record MIDI, then instead of using ReWire MIDI staves in the NOTION 6 score, you need to use External MIDI staves in the NOTION 6 score, which requires using a Virtual MIDI Cable and is not difficult to do; but External MIDI staves are different from ReWire MIDI staves, although for all practical purposes, with caveats for the difference, you can use them in similar ways . . .
ReWire MIDI staves are easier to connect to Studio One and using them does not require a Virtual MIDI Cable, because ReWire provides the necessary pipes . . .
[
NOTE: A "pipe" is a low-level software construct for sending information back-and-forth between applications, but it also involves various aspects of hardware in the computer chips. The ReWire infrastructure provides a special set of "pipes" for this purpose, where for reference there are MIDI "pipes" and Audio "pipes" provided by the ReWire infrastructure. There also are what one can call Command "pipes" that are used to communicate various Transport events and instructions, although without doing a bit of reading to verify exactly how this aspect of ReWire works, I am comfortable writing that this type of "pipe" might not be what in UNIX is considered to be a pipe, but so what. There are communication channels, and some of them are more like pipes, while others are like a semaphore subsystem in low-level Windows. It's easier to conceptualize all this stuff in terms of being real-time communication channels, but I like the idea of pipes, which basically are various types of dedicated software "cables" or "wires" that have certain types of elevated privileges which are necessary to ensure timely processing. You don't need to understand all this low-level stuff to develop songs productively . . .
]
ReWire Infrastructure Diagram (Propellerhead Software) ~ Pipes magnified for emphasis
[
NOTE: This information is available to the public without NDA and other requirements. In ReWire terminology, Studio One is the "mixer application" in a ReWire session when it is the ReWire host controller; and NOTION 6 is the "panel application" in the ReWire session where it is a ReWire slave. To help put all this stuff into perspective, I have been doing low-level C/C++ programming for over 30 years, first in the Windows universe and more recently in the Mac OS X universe; and while I did not fall off a turnip truck, I am simply astounded by the way Studio One and NOTION make everything happen

automagically

. This is

not

the easy part of software engineering--instead, it's

very

complex. I can read about it and make sense of what generally is happening, but that's not the same are knowing how to code it At present, making sense of Reason Rack Extensions is a daunting task here in the sound isolation studio, but there is an occasional bit of progress, where for the past year or two I have been stuck on discovering how to avoid a totally annoying "click" sound when one of my Rack Extension knobs is rotated. Part of the conceptual problem is that I have

not

yet developed a fully coherent mapping for (a) "lollipops", (b) sounds I can make with an electric guitar and drumkit, and (c) music notation, where "lollipops" are individual digital samples, each of which has exactly two parameters: (1) amplitude and (2) relative arrival time. I will prevail in this worthy goal, but it's taking a bit of time. In some respects, I think it might be easier to get a doctorate in Quantum Mechanics . . .
]
ReWire Technical Information (Propellerhead Software)
With each iteration or
layer
, the instrumental, vocal, and orchestral complexity of the song increases . . .
When you keep all the ".song" files, audio clips, NOTION 6 ReWire MIDI scores, and so forth in a high-level project folder for the song, then each step or layer can be revisited at some later time (a) when you are focused on producing and mixing and (b) decide that something done earlier needs a bit of fine-tuning . . .
[
NOTE: As a general rule, I think having 20 ReWire MIDI staves per NOTION 6 score is a convenient number; and it's useful to have a handful of ReWire MIDI staves common to all the NOTION 6 subscores, where these common ReWire MIDI staves are used to provide visual cues so that it's easier to determine where verses, choruses, bridges, and interludes begin and end. When you are composing counterpoint and harmonies, it's useful to include the relevant bass, rhythm chords, and melody staves, along with perhaps staves for kick drum and snare drum when you are working on some aspect of a "popular" genre song. By using only ReWire MIDI staves in your NOTION 6 subscores, it's very flexible with respect to the "reference" staves you decide to include . . .
]
Ideally, you want to refine your song development system so that everything always goes forward; but in this layered song development strategy, you always have the ability to revisit each layer . . .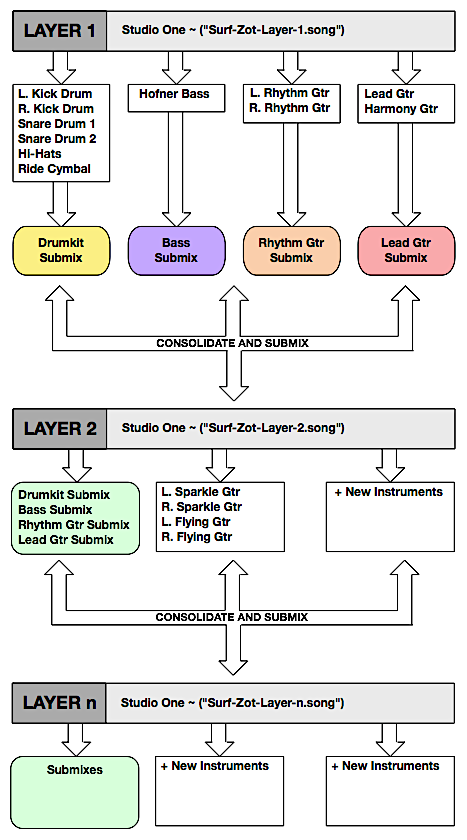 Based on my recent experiments using what I consider to be high-quality AUi and VSTi virtual instruments and AU and VST effects plug-ins, I think 10 new Instrument Tracks per Studio One ".song" layer is a good number that does
not
incur computing problems with respect to system resources and what one might call "peppy" real-time audio processing . . .
Done this way, you will add 10 new instruments and some reasonable number of vocal tracks per layer; so for example, if you need 1,000 instruments and 1,000 vocal tracks, then plan on having 100 or so ".song"
layers
; since as a general rule, recorded Audio Tracks do
not
have the overhead and processing limitations of AUi and VSTi virtual instrument tracks, although there are limits to the total number of Audio Tracks . . .
One limit for Audio Tracks is the amount of processing they require; and the other limit for Audio Tracks is being able to manage them in a coherent way when you switch to producing and mixing (audio engineering) modes . . .
Let's say for example purposes that you have 100 Audio Tracks in a Studio One ".song", which you might be able to do . . .
How are you going to see all of them?
Perhaps you have 10 high-resolution displays and devise a way to spread the Studio One Mixing Board across all 10 high-resolution displays . . .
You can't see all of them at the same time with sufficient focus to be able to do anything actually productive; so while it might be an interesting way to spend a lot of money for no practical reason, it's mostly spinning wheels . . .
You certainly can hear and be consciously aware of several hundred tracks of audio, but when you switch to producing and mixing, you need to focus on the Gestalt, which is the high-level perspective that you create by focusing diligently on details as you create each layer . . .
Consolidating, submixing, and using a bit of high-level common sense is the strategy I recommend; and I recommend it, because it works . . .
As a guideline, I think you need to do about 10 songs this way to discover the specific set of procedures and rules that work best for what will become your complete system for digital music production . . .
It might take several months to do the first song this way; but the more times you develop songs this way, (a) the easier it becomes, (b) the less time it requires, and (c) the better it sounds, which is fabulous . . .
Fabulous!
A BIT OF HISTORY
Rollback the clock by a half century, and everything was done analog magnetic tape machines which had a limited number of tracks . . .
For example, "Sgt. Pepper's Lonely Hearts Club Band" (Beatles) was recorded on 4--track analog magnetic tape machines in a strategy that involved recording a few things on one 4-track machine and then playing back as input to a second 4-track tape machine where the already recorded tracks were consolidated or submixed to one or two tracks, which then made two more tracks available for recording more instruments and vocals . . .
The problem with this strategy is that with each copying activity of audio from one analog magnetic tape machine to another, there was a potentially significant loss of amplitude and frequency information due to the quantum physics of electromagnetism . . .
This problem was called "generational loss", where in the terminology "generation" referred to each time audio was copied and merged from one reel of analog magnetic tape to another reel of analog magnetic tape, with this "copying and merging" being done by a combination of tape machines and mixing boards . . .
Audio engineers and producers devised different strategies to compensate for "generational loss" when "bouncing" (or "ping-ponging"); and these strategies usually were sufficient to make the consequences of "copying and merging" transparent or unnoticed . . .
[
NOTE: This is a vinyl record, but technically it's digital, because YouTube is digital, but so what. The only more accurate sound happens when you have the vinyl record and play it on a turntable through a calibrated, full-range studio monitor system. It's

not

a digital remaster, none of which sound anything like the vinyl records . . .
]
Today, we do everything in the digital music production universe; and there is
no
"electromagnetic generational loss" in the digital universe . . .
This makes it
vastly easier to create songs
that have virtual festivals of instruments and vocals, since there are no concerns about devising strategies for dealing with electromagnetic generational loss issues, because there are
none
. . .
In fact, when you are reasonably proficient with music notation and have a tasty set of high-quality virtual instruments and effects plug-ins, NOTION 6, and Studio One Professional, you can create your own "Sgt. Pepper's Lonely Hearts Club Band" extravaganza in your sound isolation studio, one track and one layer at a time, which is a bit beyond mind-boggling . . .
The procedures and rules are similar, and you need a well-defined and verified system for developing songs; but this definitely without any doubt is something you can do; and if you play real instruments and sing, you can do this, too . . .
Lots of FUN!