Project: Realivox Blue
Posted: Mon Dec 04, 2017 5:15 am
This project is focused on discovering how Realivox Blue (Realitone) works for creating a virtual K-pop musical group in the style of T-ARA (
a personal favorite
) . . .
Realivox Blue (Realitone)
[
NOTE: Like pretty much all K-pop songs, this one is "pumped"; so be careful with the listening volume. It's

loud

. Lots of "sparkles", Latin percussion, and synthesizer effects; and the visual production matches the music in great detail. I think it's amazing . . .
]
"In 2012, The Wall Street Journal reported that the cost of training one Korean pop idol under S.M. Entertainment averaged US$3 million."

[SOURCE: K-pop ~ Wikipedia ]


This is per artist, not for the entire group (which is six, where the others are dancers); so it's a big investment in training, and it shows . . .
BACKGROUND
Sometime in early 2012, I discovered that the Nirvana hit song "Smells Like Teen Spirit" apparently was inspired by what at the time was a popular deodorant among the so-called "Youth of Today" . . .

Later that year in December, some of my relatives were visiting and a few of the teenagers appeared to be a bit distressed because they forgot to pack deodorant; so I volunteered to go to the local Walmart Supercenter and get them some deodorant . . .
Having no clue what to get, I asked them; and they said to get AXE deodorant . . .
I had never heard of this product, so I asked if there was anything more specific; and they said any scent will be fine . . .
When I got to the local Walmart Supercenter and found the AXE products, there were several scents; so I got the one that had a musical name . . .
The key bit of information is that combining the apparent popularity of AXE products among "Youth of Today" with the observation about "Teen Spirit" led to connecting a few dots and then having a bit of FUN composing a song that I call "Tastes Like Anarchy", which is based on another of the AXE products that was available at the time and had a perfect name for a pun . . .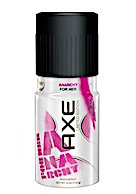 I composed and recorded the basic rhythm section in 2012 and composed some lyrics but never got around to singing the song . . .
I did the music with NOTION 3 and a few SampleTank 2 (IK Multimedia) virtual instruments, and recorded it in Digital Performer 7 (MOTU), which at the time were the current versions . . .
Skip forward a few years to 2017, and after experimenting with Realivox Blue enough to make a bit of progress, I decided to use Realivox Blue to do the singing in "Tastes Like Anarchy", although I might do some singing, too . . .
THOUGHTS
Although I have had some success with using phonetic scripting and music notation to get Blue to sing realistically with good diction, I was missing three key aspects, which specifically are (a) that phrases require using legato mode; (b) that the durations of notes sometimes need to overlap to keep the phonetic script stepping from one syllable to the next syllable in the phrase; and (c) that unless you use the "Repeat" keyswitch (B2) to repeat the same note, the notes need to change from one note to the next note when in legato mode, although at present I ensure that the notes change, since it's easier and more melodic . . .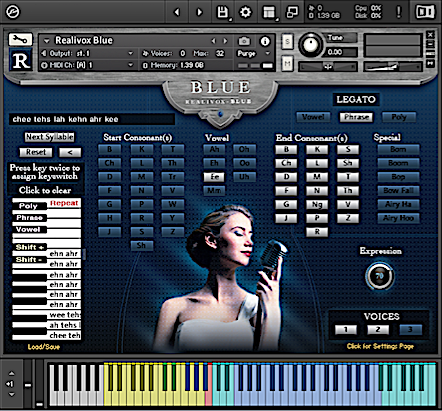 This can be done in NOTION 6, but it's not so easy; hence I did some experimenting with Digital Performer 9.5.1, but I don't like its MIDI Editor; so I tried the MIDI Editor in Studio One Professional 3.5.2 (PreSonus), and it's
excellent
for this purpose . . .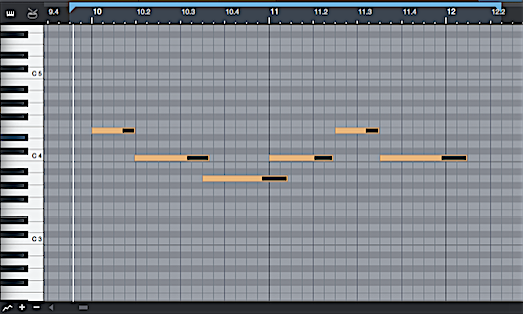 Studio One Professional 3.5.2 MIDI Editor
I also tried the back-and-forth network strategy with Studio One and NOTION, which also is
excellent
. . .
Along the way, I discovered that on the Mac you don't need to disable the "Enable ReWire" option in NOTION 6, which makes this a lot easier, since due to the audio for the music from 2012 being in Digital Performer, I am using Digital Performer as the Digital Audio Workstation (DAW) application, and I use it with NOTION in ReWire sessions . . .
It's not completely interactive, but (a) it's sufficient for what I need to do and (b) even if I used Studio One for the DAW application, I would need to do it the same way (separate network and ReWire sessions, which are two distinctly different activities in this context) . . .
When I need to work on new phrases for Blue, I start NOTION first and then start Studio One, which prevents it from being a ReWire session where Studio One is the ReWire host controller, as is the case with NOTION, since Studio One only participates in ReWire as a host controller . . .
Doing it this way, NOTION and Studio One communicate separately via the network, although this is all on the same computer here in the sound isolation studio . . .
When I have the phrase the way I want it, I close both applications and then start Digital Performer, followed by starting NOTION, which then is a ReWire session where Digital Performer is the ReWire host controller and NOTION is the ReWire slave . . .
After making some adjustments to the music notation, which sometimes is necessary due to the fact that there is no one-to-one mapping of MIDI-to-music-notation, everything is ready to tailor the new vocal part to the music . . .
Done this way, the MIDI editing is straightforward due to the Studio One MIDI Editor, which is very precise; and it's easy to get the MIDI from Studio One into NOTION, which also is very easy to do . . .
Then I can work interactively with NOTION in the ReWire session with Digital Performer as the ReWire host; and since the "Enable ReWire" option always is ON, I don't need to reboot the Mac Pro . . .
Some of the consonants in the various Realivox Blue phrases are not so clear for the ends of syllables, but I can use Melodyne to make it better, where the general idea is to make some phrases that have the necessary ending consonants and then add them to the DNA of the full phrases in Melodyne, which probably sounds complicated, but it's not so complicated, although this is mostly a guess, since I have not tried it yet, but so what . . .
I can do the same thing with real singing in Melodyne, so it will work just as well with virtual singing . . .
In some respects, this is delving into phonetics and enunciation with a microscope; but if this is what has to be done to get the virtual singing the way I want it to sound, then it's fine with me; and after a while I will develop a system, which will make it easier (or at least faster) . . .
This YouTube video shows the Studio One Professional 3.5.2 MIDI Editor with the phrase "She tastes like Anarchy", which was the prototype melody for the phrase, except that I changed it later in NOTION to fit the basic rhythm section . . .
[
NOTE: Some of the information at the AXE website suggests that their products taste good, which is where I got the idea for the pun. Yeah, it's totally silly, but so what . . .
]
This is the song with the prototype verses and choruses . . .
[
NOTE: The "H" needs an overdubbed ending consonant or sibilant, which I will do with a new staff and instance of Blue, and then combine it in Melodyne. Everything is reasonably clear, but without the ending consonant or sibilant, the "H" sounds too much like "A". The phonetic script for "ANARCHY" is "eh een eh ahr see ehch wah ee", where the "i" part of "Y" is a diphthong, so it's two parts ("ae ee" is "i", and put a "w" in front and it becomes "Y"). I put the lyrics on the Twin 2 staff, because it's easier when I going back-and-forth in network mode revising the MIDI notes and phonetic scripts. It's actually text rather then lyrics, which also is easier to modify and to move around, since it's not tied to actual notes . . .
]
The general plan is to refine the melody and lyrics, which will include adding vocal harmonies and counterpoint . . .
Another interesting aspect is that the Korean written language (Hangul) is remarkably phonetic; so there's no ambiguity like in English. There are 40 characters, and each one has an unique sound, which fits nicely with the way phonetic scripting is done in Realivox Blue . . .
This will require a good bit of work, but it's a great way to make sense of Realivox Blue . . .
Lots of FUN!