rehaartan wroteSurf Whammy, I have been following this venture with great interest, as always, though I don't fully understand (so what? ) the technical particulars. I am especially impressed by the enthusiasm and "back to basics" learning spirit you tackle the emerging issues, reminiscent of Renaissance/Enlightenment sages. I wonder if you are aware of Ethan Weiner, a wise and cuddly soul knowledgeable in many things, particularly in audio issues.

,,,and considering cats pop up wherever there are music related people, is music possible at all in their absence?
Glad you're enjoying the project!
I met Ethan Winer in the 1990s when I was writing books on Visual Basic programming, and it's interesting that Ethan decided to focus on music, which is what I did too . . .
Among other things, he started studying cello; and now he's an accomplished cellist, but he also plays other instruments . . .
He has a company that makes products for doing acoustic room treatments, and he gives presentations at audio conferences . . .
THOUGHTS
When I was designing the sound isolation studio, I did a lot of research and this included reading articles that Ethan Winer wrote, and somewhere along the way I discovered that rolls of fiberglass insulation were good absorbers of deep bass . . .
It was nice to learn that Ethan agrees; and these are a few of his more recent observations . . .
"Sure, rolled up fiberglass works well.

--Ethan"

"16 inches is pretty narrow. The larger the better. Always. Then again, in a ceiling corner you might not want to look at huge rolls.

--Ethan"
[SOURCE
Fluffy Fiberglass rolls of R 30 hung in the corners? (Music Player Network
]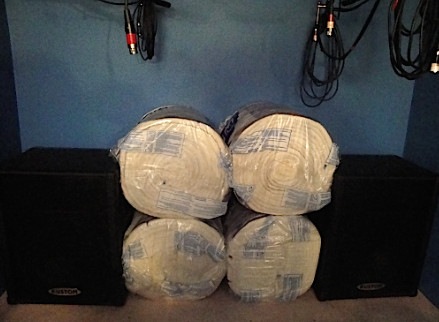 Rolls of Fiberglass Insulation ~ Surf.Whammy Sound Isolation Studio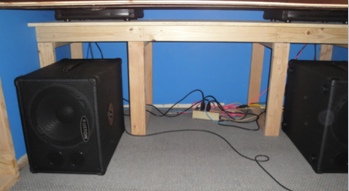 Deep Bass Subwoofers ~ Surf.Whammy Sound Isolation Studio (before adding insulation)
There are six rolls of fiberglass insulation and five cubes of compressed cellulose in the sound isolation studio, and most of them are on the floor, but as shown there are four smaller rolls of fiberglass insulation between the two-way, self-powered PA loudspeakers. There also are two, self-powered deep bass subwoofers on the floor . . .
This is another DIY strategy for "bass traps" . . .
Do-It-Yourself Bass Traps (Ethan Winer)
The sound isolation studio is a room within a room within a room; and the innermost room is fully-floated and not attached to the outer rooms. It sits atop a layer of rubber mats made from ground truck tires; and there are air gaps between the inner and outer rooms. The walls and ceiling of the innermost room are double layers of gypsum board (1/2" and 5/8"); and the walls, ceiling, and floor are Helmholtz resonating panels . . .
[
NOTE: It's conventional lumber framing, but I changed the spacing of the wall studs and floor and ceiling joists, and added horizontal framing to create different sizes of fiberglass-padded "panels" onto which the dual layers of gypsum board are attached. If you have a room with at least 9 feet high walls, then you can build what essentially is a plywood box with a door and sit it on the floor. If you assemble it with Deck Mate® wood screws and do a bit of designing so that everything screws together in manageable sections, then you can disassemble it later and move it somewhere else; so this also works if you are renting an apartment or whatever. It solves the problem of wanting to listen to loud music at night without bothering anyone, although it doesn't do much to control subsonic vibrations. Floating the innermost room on rubber mats helps, but other than a very expensive spring-system, there's not so much you can do to isolate subsonic vibrations from a building. Fully-floating the floor actually encourages the transfer of subsonic vibrations, which makes it ideal for a listening room; since you want to feel the subsonic vibrations, not to eliminate them. Subsonic vibrations are there in most recorded material, but you need deep bass subwoofers to reproduce them, and the floor needs to be able to vibrate so that you feel the subsonic vibrations, where "subsonic" is 20-Hz and lower, which for practical purposes is 10-Hz to 20-Hz . . .
]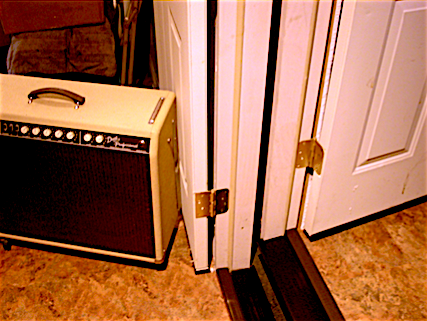 Middle and Inner Rooms ~ Surf.Whammy Sound Isolation Studio
I measure everything, and to the extent I am able on a low-budget, everything is calibrated for a generally flat, equal loudness curve at 85 dB SPL measured with a dBA weighting (90 dB SPL as measured with a dBC weighting) . . .
I have hardware and software for doing the measuring and calibrating, and the only problem in the sound isolation studio was a gnarly standing wave centered around 70-Hz, hence the rolls of fiberglass insulation and cubes of compressed cellulose insulation, which did not cost so much . . .
It's a small room (approximately 6 feet wide by 7 feet high and 12 feet long), and the "studio monitor system" actually is the sound reinforcement for a small nightclub, but I set the levels accurately and know how to do this stuff, so it's all good . . .
"dB SPL" is like temperature, so 85 dB SPL in a small walk-in closet is the same as 85 dB SPL in an indoor coliseum or the cabin of a car . . .
I have OSHA-approved hearing protection that I wear when I'm setting levels for the studio monitor system here in the sound isolation studio, which is important because the Kustom PA loudspeakers and deep bass subwoofers are very powerful and need to be configured correctly to avoid problems . . .
I use PA loudspeakers, because (a) they cost less and (b) they work when you know how to do sound reinforcement, which I did for a while in the 1980s . . .
The key bit of information is that folks who do sound reinforcement are focused on acoustic physics,
not
on endorsements by famous musicians and all that nonsense; so what happens is that sound reinforcement stuff is just as good (if not better) but costs a lot less . . .
The rule for deep bass is that you have to push a lot of air; and pushing a lot of air requires woofers that are big and heavy . . .
Sir Isaac Newton discovered and defined the "big and heavy" rule in the late-1600s (circa 1687), although he didn't call it the "big and heavy" rule . . .
It's classic physics, and nothing has changed since then, although Albert Einstein discovered and defined a few more rules (all of which are consistent with the "big and heavy" rule in one way or another) . . .
I like the PreSonus Sceptre S8 studio monitors when augmented with a pair of Temblor T10 deep bass subwoofers, but the Kustom units cost about half as much . . .
The key difference from my perspective is that without OSHA-approved hearing protection and an assortment of measuring and calibrating hardware and software, it's
safer
to use the PreSonus products . . .
I have a nightclub-size sound reinforcement system in what essentially is a small, walk-in closet; and I can do this safely, because I know all the safety rules and have the necessary safety equipment and so forth to configure everything--which is fine for me--but for folks who don't know all the rules, it can be
dangerous
. . .
The PreSonus studio monitors and deep bass subwoofers have honest specifications, which is one of the reasons I like them. You need the deep bass subwoofers to go full-range, since they go down to 20-Hz, which is the requirement for full-range. The Sceptre S8 goes down to 46-Hz, so you need to augment it with the Temblor T10--Sceptre S8 and Temblor T10 on the left and Sceptre S8 and Temblor T10 on the right. You need two Sceptre S8 units and two Temblor T10 units. Doing monaural deep bass with just one deep bass subwoofer does
not
work, because it creates an auditory illusion, and you do
not
want that particular auditory illusion, even in a studio no bigger than a walk-in closet. When there's just one deep bass subwoofer, the circuitry of the single, deep bass subwoofer is doing filtering and mixing. You want to be the one doing the filtering and mixing, and you need to hear it to mx it; hence you need two deep bass subwoofer units . . .
[
NOTE: The only other commercial-off-the-shelf (COTS) studio monitor system I recommend is the one from JBL Pro, and it costs approximately $20,000 US . . .
]
These are two of my favorite videos for explaining the fact that standard CD quality is completely sufficient for recording and reproducing full-range audio
perfectly
(44,100-Hz sample rate) . . .
I am fine with 48,000-Hz for the audio in video work, since it's the audio standard for video, but anything higher is a waste of money and accomplishes
nothing useful
. . .
AES Workshop (Ethan Winer et al.)
D/A and A/D | Digital Show and Tell (Monty Montgomery)
Cats are cool!
P. S. If all you have is an SPL meter, then play the single-version of "Billie Jean" (Michael Jackson) at 90 dB SPL measured with a dBC weighting and keep adding rolls of fiberglass insulation and cubes of compressed cellulose insulation until the kick drum has clear and distinct, deep bass punch. If the bass and kick drum are muddy, then there's a gnarly, low-frequency standing wave in the room and you need to make it go away by absorbing it with insulation . . .
It's one of the "by ear" but scientific techniques I use here in the sound isolation studio, although I augment it with calibrating hardware and software, because ultimately you need to do the science if you want to be able to trust your ears, which is fabulous . . .
Fabulous!