rubenstubenchlak wroteHi there,
after all the advises from Brian I couldn't make Notion 6 to be responsive since Big Sur. 2 years already without using the program because of that.
Anyone that had the laggy behaviour and could find a way out of it? Already tried all the suggested tips circulating here so far.
Chris, no chance for an update for the newer Mac OS?
A few questions and thoughts . . .
QUESTIONS(1)
What model and year of Mac?
(2)
Which version of macOS?
(3)
How much system memory?
It needs to be at least 8GB, but16GB is better, and 32GB is about as much as ever is needed, although most of it is not used . . .
(4)
Internal hard drive (which RPM spin rate), SSD, or Fusion?
(5)
What value are using for buffers in NOTION?
If the buffers are set too high, the audio quality will degrade, and the music will sound distorted or like a series of crackles and pops, but setting too low also is a problem . . .
(6)
What reference tuning pitch are you using in NOTION?
By default, NOTION does
not
use the standard reference tuning pitch ("Concert A" = 440-Hz), so you need to set it manually if you want your songs to be consistent with the standard . . .
[
NOTE: These are the settings I use for a MacBook Pro (Retina, 13-inch, Late 2012), and they are the same for Mac Pro (Early 2008), Mac Pro (Mid 2010), MacBook Pro (2018), and 27" iMac (Late 2013) . . .
]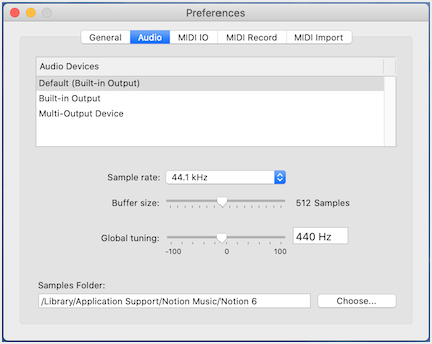 (7)
Anti-virus software?
(8)
External digital audio and MIDI interface?
THOUGHTS
[
NOTE: My first software engineering job after graduating from college was doing technical support for the NASA Shuttle Mission Simulation System--the first and second missions, STS1 and STS2--and at first I knew absolutely nothing about anything, but due to my ability to document things in great detail, my first assignment was to follow a young lady around and document everything she knew, since she was the only person who knew how certain things worked, which I did, and for practical purposes I was her puppy dog with a notepad and a pencil. A while later my supervisor let me tag along when there was a problem that caused the simulation system to stop working. There were a handful of people--hardware and software--that NASA called to fix things so they could do training. I asked my supervisor how he was able to know so much about the system, which ran on the largest supercomputer in the world and about 30 clones of IBM 360 computers--a lot of software. His answer was two-fold: (a) there was a section of code that nobody knew why it was there, but it had to be there for everything to work and (b) once the mystery code was verified to be present, he switched to what he called "

scouting around

", since he had no idea how everything worked. I asked what "scouting around" was, and he explained that if you look in enough places, eventually you will find the problem if it was caused by software. So, what I am explaining is one way to "scout around" to identify whatever is causing the sluggish problem. If you provide more information (see the questions, above), then it will be helpful and it might provide an obvious solution; but otherwise "scouting around" involves doing experiments, as well as looking at code (which in this instance is not possible) and checking configurations and settings (which you can do). There is a solution, so it's just a matter of doing some experiments, checking configurations, settings, and so forth . . .
]
NOTION works very nicely on the Mac, so determining the problem you are experiencing will require doing some experiments; and the first step is to create a bootable, full-backup so you can restore your Mac if necessary . . .
In determining the cause of the problem and providing a solution, it's best to start with a pristine installation of macOS where there are no applications other than the ones that are part of macOS, after which you will install NOTION 6.8.2 but nothing else . . .
This way, it's pristine macOS and NOTION
only
, where the goal is to determine whether NOTION runs as intended when it's the only digital music application and it's just macOS and NOTION--nothing else . . .
If this experiment is successful, then it's a clue that the problem is caused by something else; and you then can do follow-up experiments designed to identify what is causing the problem--VSTi virtual instrument, VST effects plug-in, driver for an external digital audio and MIDI processor, some other application, or something . . .
[
NOTE: If you do

not

have an external hard drive, then get one that has as much capacity as you can afford. Then you can do more bootable backups as you step through more experiments. This takes a while depending on how much software you have installed on your Mac as the experiments progress, and it also depends on the speed of your internal hard drive, SSD, or Fusion drive. Here in the sound isolation studio, it takes 10 to 16 hours to do a bootable, full-backup of the primary drives on the older Macs, because some of them are 4TB or larger, in which case I run a "keep awake" utility app called "Caffeinated" to keep the Mac from going to sleep, and I set the display brightness very low and then do something else for a while. The newer Macs don't take so long, mostly because they don't have so much other stuff beyond the digital music production apps, VSTi virtual instruments, and VST effects plugins, where to avoid typing so much I use VSTi to include AUi and VST to include AU. You can get lost in all this jargon and stuff, but so what. If you want to solve the problem, then this is the only way I know to determine what is causing the problem and how to fix it . . .
]
This will require doing some installing (macOS, NOTION, and then one-at-a-time the other applications you want to use on your Mac), but since you made a bootable full-backup and verified it
before
you started the experiments, you can restore you Mac . . .
After doing a restore, you might need to re-authorize some of the applications, but there are ways to do that, and if you need to reset the number of licenses you have available, most vendors will do a reset when you explain that your computer had problems . . .
Some digital music production applications, VSTi virtual instruments, and VST effects plug-ins are able to use USB license dongles like iLok, but some of them have software licensing, which iLok also provides . . .
As noted later, I have several Macs, most of them over a decade old; and I like iLoks, since I just need to move the USB iLoks to the Mac I want to use . . .
I also have a USB dongle for earlier versions of Reason (Reason Studios), but the newer versions provide software licensing and lately I have started using the Reason Rack Plugin (VST/AU), since Reason stopped supporting ReWire, as Studio One Professional 6 has done . . .
Start with the most simple flavor of everything--but first do a full backup to an external hard drive (LaCie is good). Use SuperDuper! (Shirt Pocket) to create the bootable full-backup, and verify you can run from the external hard drive . . .
[
NOTE: Depending on the version of macOS, you might need to use an older version of SuperDuper!. The older version(s) are available at the Shirt Pocket website, as well as the current version. I am running macOS Catalina 10.15.7, but I am running the newest macOS on the 2019 MacBook Pro . . .
]
SuperDuper! (Shirt Pocket)
I use LaCie d2 Quadra external hard drives, but the new LaCie d2 Professional is good . . .
Once you have done the bootable backup and
verified
you can boot from it, if you have any VST effects plug-ins with user-defined custom presets, then save your user-defined custom presets to a USB memory stick, along with your NOTION scores, and anything else that is not default, out of the box . . .
Then reload macOS so your Mac has nothing but macOS--hence is the way it came from Apple with no additional software applications . . .
Install the current version of NOTION (6.8.2) using a new download and authorize NOTION . . .
Reboot; start NOTION; and open one of your saved NOTION scores from the USB memory stick.
NOTION should be
peppy
; but if not, then there is a problem with your Mac (hard drive, SSD, or Fusion, motherboard, processor, external digital audio and MIDI interface, or something other than NOTION) . . .
If it's sluggish, then try creating a new NOTION score rather than using a NOTION score you previously created . . .
At this step, there are no third-party VSTi virtual instruments and VST effects plug-ins . . .
If a newly installed macOS with only NOTION is sluggish, then it is
not
a problem caused by NOTION . . .
On the other hand, if everything works as expected with only NOTION installed, then do another bootable backup with SuperDuper!; verify you can boot from it; and then one at a time start adding any VSTi virtual instruments and VST effects plug-ins, verifying everything works as expected . . .
Perhaps one of the VSTi virtual instruments or VST effects plug-ins is damaged or corrupted?
At this time, you are using macOS Core Audio with headphones or Apple AirPods--no third-party digital audio and MIDI interface . . .
This is important, because if there is an external digital audio and MIDI interface, then it's driver software might be the culprit . . .
NOTION runs natively at standard CD audio quality (44.1-kHz) and standard audio for video quality (48-kHz) . . .
[
NOTE: The standard audio for video rate is 48-kHz because the arithmetic is

easier

and

faster

, which is necessary since there is a

lot

of other computing associated with video . . .
]
If you are trying to run NOTION at a higher sample-rate and find a way to do it, then this is a likely culprit . . .
Some folks--a group of idiots, actually--think higher sample-rates somehow are "better", but that's total bunk.
Those folks do
not
know about Nyquist, acoustic physics, mathematics, and science in general . . .
Instead they are guided by confused belief systems and generally make diligent efforts to avoid science . . .
[
NOTE: This YouTube video by Monty Montgomery is a bit technical, but it explains the engineering perspective and answers the necessary questions. The high-level version is that DAW applications running on computers work with digital audio, but headphones, Apple AirPods, and studio monitor systems are analog,

not

digital. Computer music production is done digitally, but loudspeakers are analog. This involves audio-to-digital (A/D) and digital-to-audio (D/A). For example, when you sing or speak into a microphone, the microphone captures the audio and creates an analog output signal. This analog output signal is sent to a digital audio and MIDI converter or if it's a USB microphone, then its output already is digital. The digital signal is sent to the computer. This also is what happens when you play a guitar either (a) direct or (b) through a Marshall stack which creates sound that is captured by a microphone and is the handled the same way as singing or doing a voiceover. The key bit of information is that standard CD audio (16-bits at 44.1-kHz) and standard audio for video (16 bits at 48-KHz) are selected because they are sufficient to record and playback audio

perfectly

at the full-range of human hearing (20-Hz to 20,000-Hz). Children who never have attended a KISS, Miley Cyrus, Metallica, Rammstein, or Country Western concert probably have pristine, full-range hearing; but as they grow older, the high-frequency perception diminishes, and after a while this maps to the realistic hearing range being more like 20-Hz to 13,000-Hz or not much higher than 10,000-Hz; and now that more young people are listening to high-volume music while wearing headphones and Apple AirPods, their hearing abilities are diminishing. I use headphones, but I limit the amount of time I listen at high-volume typically to less than 60 minutes a day, mostly when I am creating a YouTube video for a new mix. When I mix with my studio monitor system, it's calibrated to OSHA standards, which are 85 dBL and 90 dBL with a dBC weighting, measured with a digital SPL meter. Putting this into perspective, when I was a child the first record I purchased was "Great Balls Of Fire" (Jerry Lee Lewis), and it was a 78 RPM platter. The motivation was the slapback echo, which was and continues to be mind-boggling . . .
]
Studio One Professional 6 supports higher sample-rates, as does Reason (Reason Studios) and most other Digital Audio Workstation (DAW) applications, but this is because it's easier--or perhaps more practical from a marketing perspective--to coddle the aforementioned idiots who are dazzled by large numbers, even when it's a bunch of nonsense . . .
The same thing started happening with amplifier and loudspeaker specifications starting in the late-1970s . . .
Prior to that time, amplifiers used vacuum tubes, and vacuum tubes were expensive and had short usable lifetimes, hence needed to be replaced more frequently, which was a significant expense . . .
The solution was to design and manufacture loudspeakers that were highly efficient, which mapped to requiring lower-power amplifiers, hence
fewer vacuum tubes
. . .
Rollback the clock to 1945, and typical movie theaters that had audience capacities of 500 to 1,000 people had a pair of Altec-Lansing "Voice of the Theater" two-way loudspeakers behind the movie screen . . .
These sound reproduction systems were 30 or 35 watts each, depending on the model; but there were more powerful sound systems for concert halls and stadiums, of course . . .
[
NOTE: The plywood cabinets were 3 ft. wide by 4 ft. high by 2 ft. deep, and if you connected a cable from the stereo output jack of an iPhone to a pair of these in a small bedroom and played a Rammstein song at maximum volume, it would be painful to your ears. The cabinets are bass-reflex projectors; the midrange and high-frequencies are played by the metal horns; and both are highly efficient, hence

not

a lot of watts are required to power them. For practical purposes, the power amplifiers of a car audio system provide enough power for an audience of 500 to 1,000 people in a movie theater when driving these types of loudspeaker systems. These loudspeakers have a flat equal-loudness curve from 20-Hz to 20,000-Hz., but with "modern" 21st century studio monitor systems this requires a pair of two-way loudspeakers

and

a pair of deep bass subwoofers like a pair of PreSonus Sceptre 8 Studio Monitors and Temblor 10 Studio Subwoofers, as well as an external dual-channel equalizer to calibrate the Studio Monitors and Studio Subwoofers with pink noise and a neutral condenser microphone. Here in the sound isolation studio I use a Behringer UltraCurve Pro DEQ2496 Ultra-High-Precision 24-Bit/96 kHz Equalizer, Analyzer, Feedback Destroyer and Mastering Processor and a Behringer DCX2496 Ultra-High-Precision Digital 24-Bit/96 kHz Loudspeaker Management System, although lately I prefer to mix when listening with studio-quality headphones like SONY MDR 7506 headphones, which are sonically neutral but have nice deep bass . . .
]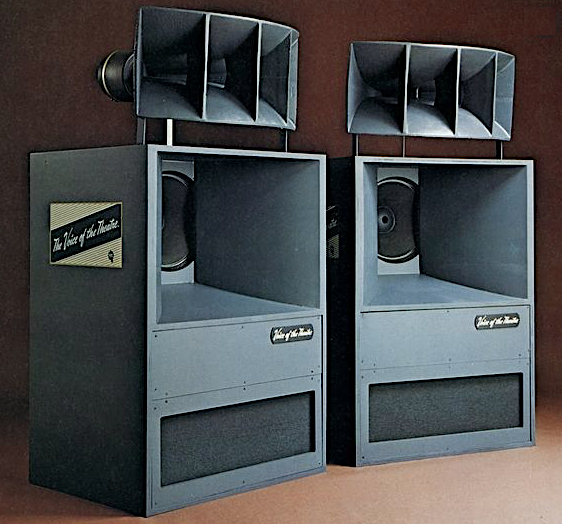 Altec-Lansing A7-500 "Voice of the Theater"
Inevitably, new ways to specify power were devised, and guitar amplifiers like Marshall stacks started appearing with claims of thousands of watts, since "obviously" 1,000-watts must be better than 50-watts or 100-watts, yet the Marshall stacks Jimi Hendrix used typically were 100-watts . . .
Instead of using the most conservative rating, things like "music power" appeared, which is a marketing gimmick and usually is twice the continuous power rating, a more conservative rating . . .
Earlier there were two significant ratings: (a) peak power, which is what a loudspeaker can handle in a short burst without exploding in flames and (b) RMS watts, which is the best and most conservative power rating, along with continuous power rating . . .
Lots of FUN!