I did a bit of checking regarding the versions of Studio One . . .
THOUGHTS(1) Studio One Artist
currently is on sale for $99.95 (US), but it doesn't have Third-party plug-in support (AU, VST2, and VST3 plug-ins and ReWire applications) . . .
There is an Add-On for Studio One Artist which provides Third-party plug-in support (AU, VST2, and VST3 plug-ins and ReWire applications), but it costs $79.99 (US) . . .
This maps to Studio One Artist and the Add-On for Third-party plug-in support (AU, VST2, and VST3 plug-ins and ReWire applications) costing $179.94 (US), excluding sales tax . . .
You need ReWire to do a ReWire session with Studio One as the ReWire host controller and NOTION as the ReWire slave, which is the way you ensure Studio One and NOTION are
synchronized
. . .
(2) Studio One Professional
is on sale for $299.92 (US), excluding sales tax . . .
It supports everything--including AUi virtual instruments (Mac only), VSTi virtual instruments (Mac and Windows), AU effects plug-ins (Mac only), VST effects plug-ins (Mac and Windows), and Rewire (Mac and Windows)--and has a virtual festival of useful stuff, including Melodyne Essential (Celemony), which can be updated to Melodyne Editor at an attractive price that for practical purposes makes the Melodyne Essential component worth approximately $100 if you plan to upgrade to the version of Melodyne Editor that I use here in the sound isolation studio . . .
Melodyne (Celemony)
This is another my projects, and it's focused on my favorite virtual sporano, Realivox Blue (RealiTone), and using the Melodyne Editor to improve the enunciation and human qualities of Realivox Blue . . .
Project: Realivox Blue (PreSonus NOTION Forum)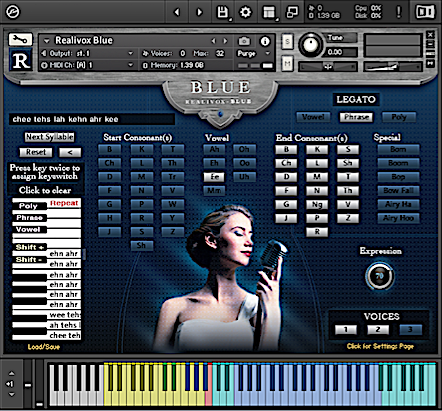 Realivox Blue (RealiTone)
[
NOTE: This is the most current version of the experiment, and it's pretty good. There are some difficult phonetics, and getting them to sound realistic required a lot of work in the Melodyne Editor, which was interesting. The song is inspired by "Smells Like Teen Spirit" (Nirvana), which apparently was inspired by a popular deodorant for teens, which I think is vastly funny. The premise is that sometime in the future there will be cyborgs who are so realistic that the only way to determine if someone is a human or a cyborg is to taste them, because cyborgs have a distinct taste that distinguishes them from humans and is the only easy way to make a quick determination. For reference "Anarchy" is a similar set of personal hygiene products by AXE, which apparently are popular among the so-called "Youth of Today" . . .
]
Realivox Blue has a phonetic scripting language, which is used to make it possible for Blue to sing nearly any phrase in any language, including English and Latin, as well as any other language you can express phonetically with the phonetic scripting language . . .
Realivox Blue requires Kontakt 5 (Native Instruments), since it runs as a Kontakt 5 virtual instrument (VSTi and all that) . . .
For reference, over the past several years the Native Instruments folks have had a one-week Thanksgiving Holiday sale where Kontakt 5 is discounted by 50 percent to $200 (US), and this is the best time to get Kontakt 5 at the lowest price . . .
Regarding the intricacies of phonetics, I taught myself ventriloquism and radio announcing, which are an excellent ways to gain an intimate understanding of phonetics . . .
[
NOTE: This was done about 12 years ago, before I discovered virtual instruments, NOTION, and so forth, hence was done with real instruments--one instrument at a time, of course. The outer space sounds are done on an Alesis ION Analog Modeling Synthesizer, and some of the other synthesizer sounds are done with a KORG Triton Music Workstation . . .
]
To the point, it's very easy and natural for me to do phonetic scripting for Blue, and while the phonetic scripting language is good, there are ways to improve it using the Melodyne Editor, as explained in the aforementioned post . . .
In this regard, it's mostly the beginnings and endings of words; and even with professionally trained singers, the beginnings and endings of words are overdubbed to increase the overall clarity of the singing . . .
Listen to this Miley Cyrus song with studio quality headphone like SONY MDR-7506 headphones (
a personal favorite
) with attention to the overdubs of the beginnings and endings of words as well as the elaborate vocal effects, which is producing activity. The easiest ones to hear are the overdubs for the words that end with "t", "k", and so forth, where sometimes it's just a short in-and-out overdub or a repetitive echo usually created by the producers and audio engineers . . .
[
NOTE: When you consider all the singing--including the background and harmony singing--I think it's accurate to suggest there are from 100 to 150 vocal tracks, overdubs, echoes, and other vocal effects. This is one of the songs I study, and I didn't hear the Pink Floyd style background counterpoint until I had listened to the song with studio quality headphones for about 10 hours, with the key bit of information being that it takes a while to hear

everything

that is happening, even when you are what one might call a "trained listener" . . .
]
The upgrades and acquisitions for Melodyne Editor, Kontakt 5, and Realivox Blue cost about $750 (US), which is not peanuts, but with a bit of work you can transform Blue into a very human soprano; and in the grand scheme of everything--even with the extensive experimenting and learning--costs about as much as hiring a real soprano for perhaps eight hours, hence is a good investment when you want to add female soprano singing to your songs . . .
Over time, you will discover that VSTi virtual instruments make it possible to move everything to a higher level, and this is one of the reasons it's prudent to start looking for discount sales, since VSTi virtual instruments tend be a bit expensive if you pay full prices rather than discounted prices when there are discount sales . . .
SUMMARY
The perspective here in the sound isolation studio is that sooner or later you will want to do more stuff, hence smart shopping is the best overall strategy . . .
You don't need to have everything at first, but over time you will want more stuff when the goal is produce the highest quality songs using the most realistic virtual instruments and sound libraries . . .
Lots of FUN!